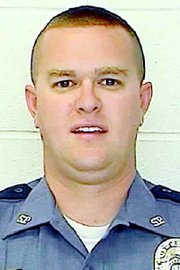 The three police officers recently hired by the Sunnyside Police Department are the first to be required to sign three-year contracts to assure the city gets what it pays for.
The contract assures that the department will be reimbursed for the cost of training an officer, explained Robert Layman, one of the three new officers.
"I think it's kind of the trend, especially for small departments like Wapato's and Toppenish's. Small departments pay for the training, then in a year the officer moves on to larger departments in other cities and all the city got was the cost of the training. They have to look out for the city's interest," said Layman, adding that a new pay-back policy established by Sunnyside's police department did not deter him from accepting employment here.
Under the new policy, an officer who is fired or quits at any time in the first 12 months has to pay back all of the cost of his or her training.
"From 13 to 24 months, the pay-back is two-thirds, and from 25 to 36 months, it's one-third pay-back," said Layman.
To completely outfit an officer costs $4,000. In addition, an officer is being paid, but is not being utilized in the city, while attending a four-month training session at the police academy in Burien, so the salary for the first six months of employment, about $19,800, is figured into the pay-back policy.
The idea behind the new policy is that the pay-back might give new officers second thoughts about leaving in the first three years.
No pay-back is required beyond three years of employment.
Layman comes to the Sunnyside force with four years of experience as a dispatcher with the City of Yakima police and fire departments.
"I wanted to get outside. I was tired of being inside," said Layman, who heard about the openings in Sunnyside through a newspaper advertisement.
An East Valley High School graduate, Layman earned an AA degree in criminal justice at Yakima Valley Community College and had just about completed a degree in fire science when he took a job.
For nine years he has been a volunteer firefighter with the East Valley Fire Department in which he is still a captain.
He said his job as a Sunnyside police officer will allow him time to continue volunteer firefighting because his shift is four days on, four off in Sunnyside.
He said his wife of five and a half years, the former Christi Doornink of Wapato, understands and supports both activities because, as an emergency room nurse, she is also involved in emergency services. They reside in Moxee, and Layman said a move to Sunnyside isn't in their immediate future.
"We looked four years before we found our home, so it would have to be something special," said Layman, adding that the 29- mile commute "is not too bad".
Layman and Scott Orate, both of whom started with the Sunnyside Police Department on Aug. 1, will not be wearing uniforms for awhile. Uniforms are never worn without a gun, and the new officers still have to qualify with guns, which should happen soon.
Their extensive academy training could begin Oct. 5 in Burien, if their applications, along with that of Ryan Bruso of Yakima, are approved.
Bruso, the third new officer hired, begins work Sept. 1.
"I'm just looking forward to getting through the academy and being able to contribute," said Layman.