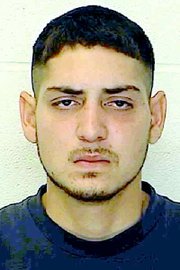 Sunnyside resident Mathew James Melendez, 21, was charged with second-degree murder domestic violence and second degree unlawful possession of a firearm on Monday, Aug. 14, in Yakima County Superior Court.
The two charges follow the shooting death of his brother, Justin Melendez, 23, on Aug. 5 at the apartment they shared at 507 South 12th Street in Sunnyside.
Bail has been set at $1 million, and his trial is scheduled for Oct. 2, 2006.
Monica Mendoza, a witness and girlfriend of the victim, has requested protection from the court after telling a Sunnyside detective she fears for the safety of herself and her two children.
Mendoza and her children were living with the two brothers at the Sunnyside apartment at the time of the fatal shooting.
Mendoza is one of four witnesses from whom Sunnyside detectives took statements.
Two of them, Rolando Fonseca and Gared Lewis, were in the basement with the brothers at the time of the shooting, according to Sunnyside Detective Chumley. It is alleged that, when Justin Melendez demanded that his younger brother show him more respect since he was the eldest, Mathew grabbed a nearby rifle, cycled the charging bolt once and brought the barrel up quickly to fire a bullet into Justin's forehead just above the right eye.
The two witnesses allegedly fled the room and left the apartment, passing Mendoza on the stairs on her way down to the basement.
She told detectives she saw Mathew Melendez carry a .22 caliber rifle up from the basement and into the back yard, returning a short time later to the home without it. The rifle was later recovered from the yard where it had been partially covered with dirt and leaves.
According to police, at the time officers investigated, Mathew Melendez told officers that his brother had been killed by LVL gang members, but later declined to give a post Miranda statement.
Mathew Melendez has a prior domestic violence assault conviction in which the disposition order prohibits him from firearm possession, which led to the second charge against him.
With an arrest pending and with the assistance of his legal counsel, Mathew turned himself in at the police department at 11:30 a.m. Aug. 9. He has been held in the Yakima County Jail since that time.