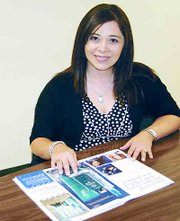 Imagine earning trips to Hawaii, Disneyland or Cabo San Lucas by working. Olivia Mendoza has done just that through her part-time job as a director for the BeautiControl company.
She started working for the company in December 1992 and has worked her way up from salesperson to director. BeautiControl is an international manufacturer and direct sales skin care, cosmetics and image company headquartered in Dallas, Texas.
BeautiControl provides professional training and a proven formula to help women form their own businesses that enable them to become leaders and earn rewards. Consultants like Mendoza who advance to the level of independent director are rewarded their choice of a trip to Walt Disney World in Orlando or to Hawaii.
After her team consisting of 52 people sold $13,000 worth of product in a month, Mendoza earned her trip to Disney World, which includes all expenses paid accommodations for her family. She will also attend five days of new director training at the company's Dallas, Texas headquarters.
According to Mendoza, working is like a day of relaxation. She gives in-home spa escapes, makeovers that include a head-to-toe image solution, which includes complementary image services such as skin condition analysis with patented skin sensors, a professional color analysis and pampering lip and eye treatments.
"BeautiControl needs to be offered to every woman, it gives you recognition beyond belief," said Mendoza.
Mendoza also gets to demonstrate the company's skin care line with products for men and teens.
The flexibility of the job appeals to many women, especially those who work. Mendoza said, "You work your own hours. I've made an office in my own home."
To book a spa or to start a BeautiControl business, contact Mendoza at (509) 837-6055. A reduced price of $99 to start a business is being offered instead of the regular rate of $250 for $500 worth of full-size merchandise and one day of training.