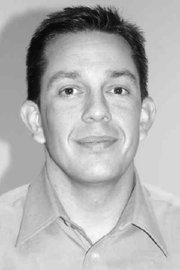 The Sunnyside School District's administrative shuffle caused by a new school and student alignment wrapped up last week with the hire of Tavis Peterson as Vice Principal for Chief Kamiakin Elementary School.
Peterson was previously with the Union Gap School District for six years, serving as athletic director and assessment coordinator for the 600-student, K-8 district.
Chief Kamiakin will have kindergarten through fifth grade, and is set to have a student enrollment of 700.
"They are comparable in size," he said.
The Sunnyside School District's total enrollment is much larger than Union Gap's, yet Peterson said he felt welcome here from the first day he visited the district.
He first visited Outlook Elementary, which at the time was seeking a new principal for this year. "The kids said hi, the staff said hi, everyone was just really friendly," he said. "Then at the district office I saw the same type of people."
Peterson, 32, ultimately found his niche in the district at Chief Kamiakin. "I had positive feedback from the administration and decided to give it a shot," he said.
Now wrapping up his first full week on the job, Peterson said the transition is going well.
"Julie knows her stuff," he said of Chief Kamiakin Principal Julie Schmick. "I'm asking a lot of questions. We laugh a lot and we get some good work done."
Peterson said his role at Chief Kamiakin will include handling more of the discipline within the school.
"My hope is for it to be based more on instructional leadership, getting in the classrooms and working with the teachers to provide resources for them," he said of his assistant principal position. The ultimate goal, he added, is to increase student achievement and learning.
Peterson grew up in Colorado Springs, Col., and moved to Washington state when he was 18. He attended YVCC and received both his Bachelor's and Master's degrees from Central Washington University in Ellensburg. He received his administrative credentials from WSU's Tri-City campus.
Though he has an athletic background as a participant and administrator, Peterson said he won't be available to coach in the district as his new responsibilities will require him to focus solely on Chief Kamiakin.
He also has a priority in spending time with his seven-year-old son. Camping is among their favorite activities.
Peterson may be the district's newest administrator, but he hopes to soon become a familiar face.
"I would be more than happy for anyone in the community, especially parents, to give me a call or come in and visit," he said. "I'm trying to meet a lot of people. I want to be part of the community."