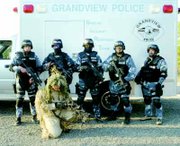 GRANDVIEW - It's a navy-ship gray vehicle in the shape of an older ambulance, but if you see it parked in your driveway, you better come out with your hands up.
The Grandview Police Department's Special Incident Response Team (SIRT) recently got their transport vehicle fully operational and displayed it Thursday night.
According to information from the Grandview Police Department, its SIRT team became operational in mid-2003. For a number of years previously, officers of the department voluntarily undertook occasional training sessions to improve their ability to handle some types of high-risk operations.
According to the Grandview Police Department, these operations almost always involved the service of arrest or search warrants to include the possibility of forced entry into dwellings. Uniformed officers had, for many years, simply gathered help to accomplish these operations without the benefit of any specialized training.
It soon became apparent the rise in drug-related warrant service, encountering an increasing number of suspects with access to firearms of all kinds and the danger to officers and others of serious injury as a result, warranted an organized effort to be initiated to achieve the specialized training necessary to minimize these dangers.
By mid-2003, a small number of officers had attended and graduated from SWAT Basic classes offered by the Washington State Criminal Justice Training Commission. By mid-2004, the team had sufficient members to be able to deploy on at least basic operations by itself.
To transport the team around, a 16-passenger van was used. When seven or more fully loaded SIRT team members were in the van, things were tight. Each team member carries approximately 50 pounds of equipment with him. Getting in and out of the van in such tight conditions proved difficult.
Luckily, Officer Mike Hopp of the Grandview Police Department found out Prosser Memorial Hospital was going to surplus one of its older ambulances. Hopp got in touch with Mike Schreiner, EMS director at Prosser Memorial Hospital, and the police department and the hospital worked out a deal where SIRT would take the ambulance and the police department would give the hospital a vehicle. This deal didn't work out so the hospital just donated the old ambulance to the police department.
"We took control of the vehicle in January 2006," Ron Schneider, a Grandview police officer, said.
The ambulance was just that, an ambulance, and it still needed to be 'pimped' before it could be used. Several people donated their time to make this happen.
Schneider took the vehicle to Columbia Basin College in Pasco, where Roberto Lozano, an instructor in the auto-body department, started pimping the ride. "They (CBC students) donated their time and we paid for the parts and materials," Schneider said. "It was a learning experience for them and good for us."
The CBC students did some minor engine work and then painted the vehicle. MB Upholstery in Grandview made new seats for the vehicle and 7 Signs put on the decals. All parties donated their time and labor, the Grandview Police Department paid only for the materials used.
The new vehicle has been used approximately four times since the department received it. The biggest benefit of the ambulance turned into SIRT vehicle, according to team members, is they can keep all of their equipment in one area. All their equipment is stored in the vehicle and it's easier to get in and out of. At one time the vehicle held 15 fully equipped officers, comfortably.
There are currently seven team members on the SIRT team with one officer in training. The team trains at least once a month, for four hours, and is moving towards two full-days of training per month.
They train for vehicle assaults, school assaults, officer down training and tactical scouting, among others. The team qualifies with their weapons quarterly and perform a physical training test four times a year, also.