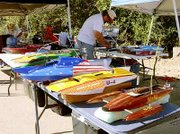 GRANGER - East meets West when the second annual Granger Cup Invitational mini-hydroplane race returns to Hisey Park next Saturday, Aug. 26.
The little boats are 24 to 30-inch replicas of larger hydroplane racers that course up and down waterways throughout the Northwest.
Once again, the Aug. 26 race will feature mini-hydroplane boat owners from the Puget Sound area putting their vessels to the test with a regional group known as Central Washington Radio Controlled Boats.
Race organizer Pat Barr said the Central Washington hydroplane club has been around for about five years. It has a membership stretching from Selah to Prosser, with a few members in the Tri Cities, Barr said.
He said the idea for the race with the Western Washington hydro enthusiasts was sparked when he visited their website.
"I was interested in what they were doing and it sounded like it would be fun to get together and have a race," he said.
The mini-hydro races will hit the pond at Hisey Park at about 9 a.m. and run until 4 p.m.
Barr estimates there will be 30 to 40 race participants between the two clubs, with about 50 boats altogether competing in the event.
The public is welcome to look on as spectators during the day-long event, Barr said.
For more information on the Central Washington club, visit cwrcboats.com, contact Barr at 509-789-1176 or Tom Maggard at 509-248-6501.