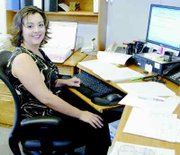 It's been almost six months since Delilah Cyr accepted the job as administrative assistant for Sunnyside Public Works Director Jim Bridges, and she loves it.
The Grandview native still lives in Grandview with her husband and two-year-old daughter. She had been working at the Washington State Migrant Council when she took a job working as a research coordinator for the University of Washington.
There she did a research study on fluoride. "It was fun work," she said. "We traveled a lot."
Because of the large number of seasonal workers in the area and the absence of dental check-ups for many, Cyr and her research teammates wanted to find out if three doses of fluoride in two weeks would work just as well as one dose in six months, which is the norm.
Cyr traveled through the Moses Lake area and down into Pasco for her research. "It wasn't always easy to catch the kids at home," Cyr explained. "We did a lot of home visits."
Cyr said there was about 500 kids in the study. She left before the research project was complete. She wanted to find work eventually that would be permanent. "Research jobs end," she said. "There were some other projects coming up but I wanted to find something a little more steady."
She hadn't even started to look for other work when she came home to find the public works job advertised. Her husband had been searching the internet for jobs and just printed it out.
"I asked him if he was going to apply for this position and he said no," she added. "I said good, I'm going to."
She said her landing a job in the public works department was kind of a fluke. "When you're looking for a job, you don't find anything and when you're not looking for a job, it's right in front of me."
Cyr applied for the job and waited. A month went by and she started to think the position had been offered to someone else. That's when the call came. She was contacted and asked to come in for an interview. After her interview she was hired that afternoon.
She spends a lot of time answering phones in the public works department and deals with everything from questions to complaints. If she can't answer a question she'll get the customer's phone number and then find the answer to their question. When she has found it, she will call them back with the information. She thinks the customers appreciate that. "I hope I'm helping the customers the way they would like me to help them."
She said the city has numerous projects going on at the moment. Her duties also include keeping all the paperwork associated with a certain project together and accessible.
Cyr said her department has already started working on the budget for next year. "There is still a while before we have to turn it in," she said. "We're just getting started."
She said she has learned a lot already in the six months she's been working for the city. "I didn't realize all that the city does," she explained.
She names this job as her favorite so far. "It's just great to work here," she said. "The overall environment is what I like. The people, the job and just the working environment."