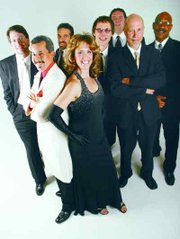 Sunnyside Community Hospital Foundation has picked Saturday, Aug. 26, as the day for its 14th annual Golf Tournament and second annual Evening in the Park social event.
Two major fundraisers on one day are a big task. But, Committee Co-Chair Lynn Smith said the idea behind doing two events on one day is to add to the excitement of the weekend.
"Our golf tournament has grown in popularity for years," said Smith. "But one thing people from out of town requested was something else to do while they were here. We think the combination of golf in the morning and a dinner and show in the evening creates a great reason for people to visit the Lower Valley."
The Foundation has hired Bobby Medina and the Red Hot Band to provide entertainment at the Evening in the Park. The band plays jazz, light rock and many contemporary sounds. Medina's band has played all over the United States. He has also toured alongside many jazz greats like Ray Charles, Mel Torme, B.B. King and Grover Washington Jr.
"If you loved our Elvis tribute last year, you will love Bobby Medina," said Dinner Committee Co-chair Patrice Swofford. "We just want everyone to come out and have a great evening in the park."
The Evening in the Park will be held at the Country Park in Grandview. The park will be decorated with floral arrangements and special lighting. Platinum Catering of Kennewick will cater the gourmet dinner.
"In addition to a delicious meal, there will lots of time for dancing, or just relaxing and enjoying the music with your friends," Smith said.
The event starts at 6 p.m. and will conclude by 10 p.m.
The Foundation has received several high quality items to auction off during a short break in the music program. Professional auctioneer John Topp will run this year's auction.
Auction items will include a KONA Coast Condo one-week stay March 11-18, 2007 donated by Dr. P.J. Swofford; an Alexandria Nicole wine tasting adventure (wine tasting and tapas for six at their beautiful new Tuscan style tasting room in Prosser); a two-night adventure for four at Cave B Inn at Sagecliffe, the new winery and destination resort near the Columbia River at George; a dinner for eight prepared by Chef John Caudill and his wife Kimberly, hosted by Mandy and Dave Minnich from Willowcrest Winery and Dr. Hugh & Kathy Shiels from Cote Bonneville;and a vintage 1982 Suzuki cruising motorcycle, a classic bike that was originally owned by the late Dr. Warren Meadowcroft and completely restored.
Other auction items include a seven-day stay at a luxury condo at the Whistler Marriot, donated by Dr. Karen Easton and her husband David Kuehn; and a tour of the Yakima Valley in a Model T Ford, as provided by Dean Stokes and George Sheller when they fire up their vintage autos for three lucky couples.
All proceeds from the Evening in the Park and the 14th annual Golf Tournament will be directed toward the remodeling of the Sunnyside Community Hospital Emergency Department.
Corporate supporters include Strain Barrom Insurance, a division of Argus Insurance and American West Bank.
A limited number of tickets to the Evening the Park are still available at a cost of $125 per person. Tickets can be reserved by calling 837-1336.
Those who would like to start the day with the Foundation Golf tournament can contact Carol Allen (837-1627).