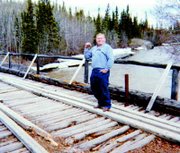 Two weeks ago Stan Robert Schilperoort, 82, of Sunnyside was diagnosed with lung cancer. This past Monday he was hospitalized and on Tuesday he died.
The following day, yesterday, his seven sons, daughter and a good companion were sitting in his little apartment in Sunnyside sorting through boxes of pictures to assemble a memory board for his funeral, which will be this Saturday.
Each photo provoked reminiscences that tumbled over one another as people in the room vied to eagerly tell the story they best remembered about a man they called "a character".
There were no tears in that apartment yesterday, but there was a lot of laughter.
"Dad told us years ago 'When I die, I want it to be a celebration of life'," said his son Don Schilperoort.
The life of the Schilperoort family in Sunnyside extends back to 1910 when Tuenis (T.J.) Schilperoort sailed from Holland for the United States, met Anna DenBoer aboard that ship and romance blossomed. The newlyweds soon made their way to Sunnyside and a homestead on East Edison Road. There they raised seven sons.
The seventh was Stanley (Stan) Robert.
"He broke a farm out of sagebrush at the end of Factory Road in 1950, and that's where we were all raised, east of town,"
said his son Troy. "We had the first yard light, back in the good old days."
"Dad raised about every kind of row crop there is and always had a bunch of hogs," said Don.
Troy and Don are two of the seven sons Stan and his wife, Dorothy Rae Culver, raised on Roza land where "Stan's Hill" became a sledding hill in the winter for neighbors from miles around.
A petite daughter, Angie, made a delicate contrast to the seven rugged sons-Wes, Brad, Troy, Daryl, Dale, Don and Robert Stanley (deceased in 1991).
Angie became the focus for one of her dad's favorite stories.
"Our dad fondly remembered her as just a little thing-maybe 2, 3 years old-coaxing a horse to the fence and then sliding over onto its back and riding along as it just walked around inside the corral with a saddle, bridle or halter," said Don. "He just loved telling that story. She always had such a way with horses."
"We had 14 head of horses, one for each of us. Dad was involved in the Stampeders Horseback Riding Club and we were all in that," recalled Brad.
And there were pictures in the cardboard boxes to back him up.
Their rides along the Crest Trail and the summer riding outings at Salmon La Sac are captured memories.
They were all members of Roza Ranchers, a 4-H club their dad started with several other ranchers in the area. The sons also remembered their dad's interest in all of the athletics in which they became involved.
And laughter rang out as they picked up a photo of their dad, dressed in a pair of swim shorts, taking part in a hand-standing contest on a beach in July 1959.
Stan Schilperoort may have been the character his children claim he was, and he certainly had his own way of farming.
When he found equipment too cumbersome for a job, he took matters into his own hands.
"He perfected cultivating and planting equipment..."
"He set it up so he wouldn't have to change tires around to fit all the different crops..."
"And he planted five rows of sugar beets instead of six like the other farmers did..."
"Because it fit the equipment better," caroled the voices of his sons in Stan's apartment yesterday.
Sitting among Stan's children, quietly looking through a photograph album, was a lady Stan knew for 40 years and called friend and companion for the past six years.
"He called her 'classy' and we're lucky to have her with us," said Don, whose mother is deceased.
The classy lady, Shirley Baze, said she enjoyed Sunday rides with him to look over the farmland and spring trips to Lake Tipso and Mt. St. Helens, where he liked to just look at the wildlife now that he no longer hunted the elk and deer.
They took their last long trip together two years ago when they drove the Alcan Highway to Alaska.
"It was a fun trip. We went to Valdez and Seward. We just drove the car and there were plenty of places to stay on the way," said Baze.
"He was a romantic," said Baze. "And not just with me. He just had those twinkly eyes and he'd wink. He just loved people. He liked girls. He enjoyed hugging. He'd do anything for anyone. He never judged people. It was what was inside of people that counted. He always said 'We're not here to judge', and I never heard him say a bad word about anyone, never. He was just a loving, caring person. He was the joy of my life."
Memories.
They floated around the tiny apartment yesterday.
There was the homemade birthday card designed by two of Stan's grandsons, sons of Angie and Manuel Guzman of Mabton. When the boys were just little bitty, they made grandpa a card carefully pasted over with pictures they thought pertained to his life, pictures of crops, long horned cattle, a silly cartoon featuring two cowpokes. They knew their grandpa.
In 1983 Stan was farming in a field by himself, standing next to a tractor when it kicked into gear and ran him over.
"He laid there 45 minutes before a neighbor came along to borrow a part," said Troy.
"It crushed his hips and his pelvis and it took the better part of two years trying to put him back together," said Don.
""But they got him all put back together and he got to walking again," said Troy. "He had a little gimp in his get-along and you could hear the bones in his hip clicking where they weren't just right."
"But Dad said 'If I can get all healed up, I think I'd have 20 good years left'," said Troy.
"He had 22," said Don.
&nbsp