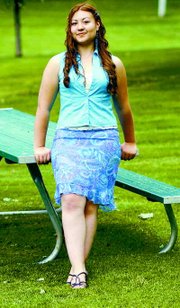 Born in California to Simon and Ester Ramirez, 2006-07 Miss Sunnyside hopeful Silvia Ramirez moved to Sunnyside when she was two years old.
"Ever since I was a little girl I've dreamed of being a princess," she remembers.
That's why the 16-year-old junior at Sunnyside High School is preparing to compete in the Miss Sunnyside Pageant in September.
"I believe I'm very honest and kind," she said. "I help out people in need, I would be a good role model and would like to help our community. This would be a great opportunity for me to show everyone I can represent Sunnyside well."
She's also running for the chance to become a role model for the young girls in the Sunnyside community. "I can teach them things they might need to know, I could help them," she claims.
If Ramirez is named Miss Sunnyside this September her service project for the community will be working with the Sunnyside Public Library.
"I would like to start a 'story time' for children in the library," she explained. Ramirez and the other young ladies on the Miss Sunnyside court would volunteer their time and read to the children.
"I would also push to inform young kids about library cards," she added. "We would also do some fund-raising for the library to help buy new educational books."
There is a reason Ramirez holds the library so dear to her heart. She spends a lot of time there and it has been a goal of hers to get more kids interested in reading. She herself reads anywhere from two to three times a week. The last book she finished is called Matilda, a story about a young girl who is ignored by her parents and how she deals with it.
Her exact GPA escapes her memory but she said it's in the high three-point range. She passed two of the three portions of the WASL, the math portion being the exception, missing the passing mark by seven points. She took some summer classes and re-took the WASL math portion Aug. 8. Asked if she passed, she answered, "I think I did."
She likes all subjects in school and says her favorite class is reading. She is determined to go to college but is unsure as to what she wants to study in the future. She has been thinking of pursuing a career in fashion.
"I love doing art and being creative," she said. On the far side of the spectrum, Ramirez has also been thinking of becoming a family doctor. "I would like to help people and cure them," she added.
The last six months Ramirez has been playing a lot of tennis. She hasn't played high school sports yet but thinks this year she might try out for soccer in the fall, and tennis or softball in the spring. It really depends on what happens at the Miss Sunnyside Pageant. "I want to be able to dedicate myself to just one thing," she explained.
Ramirez plans on doing a dance performance for the talent portion of the pageant. She will dance to a mix of four songs, combining the salsa and mambo styles of dance.
Her hobbies include being outdoors, playing sports and listening to music of every kind. "As long as it has a good beat, I'm cool with it," she said with a smile. She also likes to create artwork, making pictures with colors.
Ramirez's mother is her role model. "She's always been there for me and taken care of me," she said. "I love her very much." Her parents are very excited she's trying out for Miss Sunnyside. They've given her a lot of support, she says.
Both her parents work in the agriculture field and she says they have taught her to stay in school and do well. During the summer when her parents are both at work, Ramirez takes care of her two younger brothers, ages 10 and eight. She likes to cook for them and her favorite foods are Chinese and Mexican. She's very talented when cooking Mexican food but admits she doesn't have a clue about cooking Chinese.
As for the experience of running for Miss Sunnyside, she likes it.
"It's gone well and has been really fun," she said. As the pageant creeps closer, she's become more and more excited, likening it to the feeling you get when Christmas is a few weeks away.
Ramirez has gotten to know some of the other girls. "They're great," she added. "Kind and friendly."
She and the other Miss Sunnyside contestants participated in the Grandview parade and had a good time. "We all enjoyed having the experience of being in a parade," she said.
For now, she continues to work hard with the other girls to prepare for September's pageant.