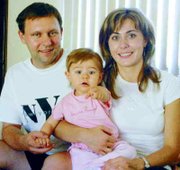 A year's stay as a foreign exchange high school student in Granger 12 years ago led Peter Agh of Slovakia to revisit the Lower Valley, possibly with a view towards staying longer.
Agh (the h is silent) arrived in Sunnyside last month with his wife Zuzana and their 16-month-old daughter Alexandra. They plan to stay here at least through December while Zuzana completes a pharmacy internship at the Sunnyside Rite Aid.
This is actually the second time the couple has tried to pursue Zuzana's stateside pharmacy training.
Back home in Slovakia she is a pharmacist-has been for about five years-but to reach the same status in the U.S. she must complete an internship.
The high school sweethearts, both are 29, married and moved to the states in 2001 so Zuzana could begin training at the Rite Aid pharmacy. Peter, meanwhile, went to work for the Copeland Insurance Agency in Zillah.
Like so many others, the Aghs' plans were interrupted by the Sept. 11, 2001 terrorist attacks, which prompted the U.S. to place visa limitations on foreign visitors in this country.
Accordingly, the couple returned to Slovakia and Zuzana put her U.S. pharmacy pursuit-and the crucial stateside pharmacy board exam-on hold.
Unfortunately, they were on hold for longer than the Aghs could have imagined.
"We went home for a few months and stayed a few years," Peter laughed.
Due to a lengthy waiting list, it was 2004 before Zuzana could return to the U.S. to take the pharmacy exam. Finally, this year she was able to pursue an internship at Rite Aid. "They've helped me out a lot," she said of the staff at the Sunnyside pharmacy. "It (the internship) is the best way to learn."
The longer than expected wait in Slovakia proved fortuitous in that Peter, who holds a Master's degree in economics, was hired as city manager for Nove Zamky, a city with a population of just over 40,000.
But now he's back in the Lower Valley, temporarily serving as a fulltime house dad-and loving it-as Zuzana completes her Rite Aid internship.
He's also had an opportunity to visit with Dick Zais, Yakima's city manager. "We are from different countries but we've found that we have the same problems," Agh said, noting he would like at some point to meet with city managers from cities in the Lower Valley.
After December the multi-lingual Aghs-Peter speaks five languages and Zuzana four-will face a choice of whether to return to Slovakia or stay on longer in the states.
Zuzana said a pharmacist's annual income here in the U.S. is tempting, noting it would take her 10 years to earn as much in Slovakia.
"Pharmacists here are much more appreciated," she added. "Back home people are not used to asking a pharmacist for help. I would like to work in the states for a few years."
The biggest draw here-the very thing that made them endure the long post-9/11 wait-is people.
"They are so nice, so friendly" Peter said. Even now, more than a decade since he stayed with them as a foreign exchange student, the Aghs remain good friends with Dean and Kathy Sizer of Granger. Another good friend in the area is Tamara Beaulaurier, who worked with Peter at the Copeland Insurance Agency.
The Aghs' Lower Valley friends have even made trips to Slovakia and were on hand for the couple's wedding.
As much as they love their many friends here, the decision on the Aghs' future may hinge on whether the mayor in Nove Zamky who hired Peter is re-elected this fall. If the mayor loses, then Peter thinks the winning candidate will probably bring in his own city manager.
But the Agh family seems to be at ease with the unknown. Maybe that's because they've experienced so much of it in the past.
In their brief lifetime they've already seen their country's political system lurch from communism to a democracy and the break-up of their home country into the Czech Republic and Slovakia.
So they know a thing, or two, or three about change and the unknowns it can bring.
"My grandfather lived in the same house all his life and he lived in five countries," Peter smiled as he reflected on his homeland's topsy-turvy history. ""You never know what's going to happen."