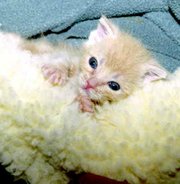 Too many people, who get pets because they're so cute or the popular style of the day, end up shirking their responsibilities by giving them away or, worse, abandoning them.
"Last year there was a lot more puppies dropped off at our door," Sherrie Hockett, DVM and owner of Pet Health Clinic in Sunnyside, said. "This year we've had more kittens dropped off than I've ever seen before."
Luckily for the puppies, Hockett was able to find homes for them more easily than for the kittens. Plus, there are three rescue operations in the area that will help dogs find homes. Kittens are a different story. With them, Hockett and the staff at Pet Health Clinic are on their own.
"I found homes for two kittens the other day," Hockett said. "When I got to work the next morning there were three more kittens that had been dropped off."
It's illegal to dump dogs or cats. Hockett and her staff are there for medical purposes, not as an animal shelter, she said. Hockett will come in and find an animal at her office's door step. She will care for it and then try to find it a home. Most of the time, it doesn't end happily.
It's not that the staff doesn't want to help the animals. They are overwhelmed with them.
"The difference is that we love them and get really attached to them," Hockett explained. "It breaks my heart to have to send them to a shelter."
The shelter almost always means certain death for an unwanted animal. The shelter is in Yakima, and Hockett estimates 5,000 animals are put to death each year in Yakima County alone.
The answer to many of these unwanted animals is for pet owners to spay or neuter their animals. If everyone did this, the number of unwanted animals would drastically decrease. Lots of people want to breed their animals so they don't have the procedure done. Others just don't care, have the money or time.
But it's unlawful to permit a female dog in estrus, otherwise known as being in heat or season, to be accessible to any male dog not owned by the female dog's owner, according to Yakima County Ordinance 2-2006. The exception is when there is an agreement between two parties to breed their dogs.
Each violation receives a $225 fine. The problem is the law is not enforced. The manpower just isn't there.
Hockett encourages everyone to neuter or spay their animals. She said she keeps her prices down so people can afford the procedure. She charges $42 to neuter a cat and $72 to spay one. A dog will cost its owner $72 to neuter and $87 to spay it.
Besides uncontrolled breeding contributing to the problem, behavior issues are the number one reason why people abandon their dogs or give them away.
Constant digging, barking, aggression and sometimes just playfulness can grate on some people's nerves. All of a sudden that cute puppy is three times the size and he's tearing things up.
These issues can be overcome, Hockett said. Behavioral training can usually calm a dog and they can be taught not to do certain unwanted activities like digging.
Kittens are still the big problem for Hockett and her staff.
She has at least eight kittens right now and kittens are dumped off at her front door weekly. They arrive in all sorts of conditions. Most are relatively healthy with just minor problems. Others have bad eyes or broken limbs. Hockett euthanizes the kittens that are still nursing. "I can't find homes for the healthy ones," she said.
There are some exceptions.
One night a man was caught dropping off a kitten at the health clinic and his license plate number was given to the animal control department. The man was identified, contacted and told he had to go and pick up the kitten he had abandoned or he would face criminal charges.
The man who showed up at the clinic to pick up the cat he had discarded wasn't embarrassed or ashamed of what he had done. He was angry he might be facing criminal charges. He told Hockett he did the best thing he could do for the cat. He said he even left some bits of hotdog to tide the kitten over until someone could find it.
The best thing would have been to vaccinate and care for the animal, Hockett surmised. He could have tried to find the kitten a home or, barring that, taken the animal to the shelter in Yakima. Instead, the man threw in a few bits of hotdog and passed his problem onto someone else.
Hockett knew better than to turn the kitten over to the man. She kept it in hopes of finding it a home.
Until these attitudes are changed about animals, the problem will continue.
The veterinarian has been somewhat successful with finding homes for the animals, estimating one-third of the dropped off cats and dogs are placed in homes through Hockett's and the staff's effort.
"There are some angels out there," she said. "They spend thousands of dollars to spay, neuter and vaccinate stray or abandoned animals."
She told of one lady who has her own animal trap. The lady will trap as many cats as she can and then bring them in to be neutered or spayed.
She puts pictures of the animals on petfinder.com and has had several people from as far away as Seattle come to get animals. One lady called Hockett and wanted two cats for her daughter's birthday. Hockett made plans for the next day. Later that afternoon, the lady said her daughter couldn't wait and asked if she could come right away. Hockett said yes, even though the lady was driving from Seattle and it was getting late.
The lady and her daughter got home very late that night but in the company of two cuddly kittens. They even shared pictures of the kittens' first birthday with Hockett.
Besides spaying or neutering, Hockett said people should take care of their dogs when they are in heat. When walking the dog, use a leash and they should educated themselves to know the signs of the heat cycle.
"Some people don't even know that," Hockett said. "People can call us up and we'll tell them for free. We want to educate people."
For now, the staff at Pet Health Clinic soldier on. They know they can't save every life that's dropped off on their doorstep.
"I save a few," she said. "That's as good as I can do."
Yakima Valley Pet Resuce at 509-248-2789; Out West Pet Rescue at 509-786-1200 and Ellie Patnode at 509-248-2457 are three organizations helping to rescue unwanted animals and helping to find homes for them.
.