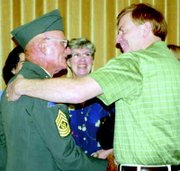 Call it an early birthday gift, more than 60 years late.
Sunnyside native and farmer Walt George received just that this past Friday when Congressman Doc Hastings presented him the Bronze Star for service in the U.S. Army during the Battle of the Bulge, a last-ditch WW II offensive by the German army in December 1944.
George received the honor during a program at the Sunnyside VFW. It was presented two days before his 82nd birthday, which was Aug. 20.
Outnumbered three-to-one-approximately 54,000 to 18,000-by German forces, the seventh armored division George served in held off the enemy for five days before finally having to retreat. Only 40 of the more than 200 men in his B company of the 38th armored infantry battalion returned unscathed from the battle.
"I am indeed a very fortunate person to live through that. Somebody was looking out for me," he said prior to the medal service. "One day there was some mortar fire and we rushed for the basement of a house," he recalled of his closest brush with disaster. "As we were going down the stairs, shrapnel hit the guy behind me and in front of me. All I got (from the shrapnel) was a dent in my helmet," he said.
All told, George saw six weeks of continuous infantry duty in the Ardennes Forest near Belgium as the Allies gradually pushed back the German advance. When the smoke cleared, George's division had captured 20,000 enemy soldiers, including three-star generals.
After surviving that duty, George and others were called on to prepare for a planned invasion of Japan. "Let me tell you, I was not a happy camper when I got that news," he said in an interview before the ceremony.
The U.S. atomic bombs dropped on Hiroshima and Nagasaki brought an early end to the war in the Pacific. "Harry Truman is my buddy," George said of the presidential decision to drop the A-bombs.
Upon returning from the war, George went on to serve in the army reserve until his retirement in 1974.
George and his wife, Betty who served in the Air Force during World War II, farm mint and corn near Sunnyside.
When looking through an American Legion magazine five years ago, George said he first learned he was eligible to receive the Bronze Star, based on his length of combat duty and the combat infantry badge he received.
When George filed his paperwork for the medal he was greeted with silence. "They didn't send so much as a postcard," he recalled.
In April of this year, George asked Hastings-who served with him in the reserve back in the 1960s-to look into the matter.
According to George, Hastings worked with a connection in the Department of Defense to obtain the medal. Hastings later wouldn't say how it all came about, though an ear-to-ear grin seemed to indicate the Congressman had an "in" with someone in Defense.
Robert Jones, a vice commander of the Sunnyside VFW post, and emcee for Friday's presentation, joked that he thought he had the record of longest medal wait because it took him 53 years. He said it was about time George received his due after a 60-year wait. "I think it's great," he said later. "I just wish they wouldn't be so slow about it."
George, who attended the presentation in the same reserve uniform he wore 30-plus years ago, agreed it was nice to finally receive his bronze star. "It's sort of a nice birthday gift," he chuckled. "It's nice to finally get it. I earned it the hard way."
He also agreed that the early birthday gift was a far sight better than one he received while serving in the Army during World War II.
"I received two cartons of cigarettes," he laughed. "And I don't even smoke!"
.