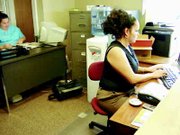 A year ago Elena Hazle, her two children, ages 9 and 3, and her father came to Sunnyside with little more than what they had on their backs. The family that had weathered Hurricane Katrina were relocated to Washington state and specifically to Sunnyside because the family of Hazle's fiancé, Jose Alvarez, resides here.
Both Hazle and her fiancé were on active duty with the Navy when the hurricane hit. Her status was put on hold during the relocation; Alvarez' stayed behind to help with clean up of the devastation left by the storm.
A home that was for sale in Sunnyside was opened to them as a temporary rental and Hazle started looking for work to put their lives back together.
A lot has happened in a year.
Today, Hazle is settled in a cozy apartment in Sunnyside, has married her fiancé, brought her sister, a nurse, from New York City to live in Sunnyside and has opened a business, which has not only provided employment for herslf but also for her sister, Freida Ayub.
"We opened Alvarez Tax and Document Preparation July 2006 at 1016 East Edison Avenue," said Hazle, who has been Mrs. Jose Alvarez since their marriage in March.
The new business owner said she shares working hours with her sister-in-law, Ofelia Alvarez, and her sister, Freida Ayub, who is also a registered nurse.
They operate the business, which stays open from 9 a.m. to 11 p.m. to help with individual tax preparation, small business payrolls and bookkeeping and preparation of documents, such as immigration forms.
They provide notary services and, since Elena is bi-lingual in English and Spanish, they also provide translation services.
"My research in this area showed me there is a high need for someone in the tax profession to work not only for small businesses, but for individuals, who might not be able to afford higher priced accountants and bookkeepers," said Elena.
"The basic incomes here are not above $50,000 a year, so I'm looking to serve the smaller community. We're a family-oriented, local business in support of local and surrounding communities. We're not looking to break the community with fees. We offer services at a reasonable price," said Elena.
She has five years experience in the accounting field as well as heavy equipment and legal experience gained from her four years in the Navy. She is pursuing a Master's degree in business administration.
Her husband, who is on duty in Japan and expects to complete his four years of military service in mid-December, will be joining her in the business.
"He's pursuing his degree in accounting now," said Elena.
Elena said she looks forward to helping people "make sense" out of immigration requirements and do-it-yourself forms through which an individual can be guided if seeking dissolution of marriage, legal separation, child support, custody or establishment of paternity.
"We don't give legal advice," said Elena, "but we can provide help with many kinds of forms and documents."
Although a hurricane blew her into Washington state, Elena said she feels at home in her adopted city.
"The community really reached out to my family. I arrived last August and had a job by October. We're part of the community," said Elena, who said she doesn't even try to compare Sunnyside with New York City from which she sprang.
Granted, Sunnyside doesn't offer the diversity and cultural opportunities of the Big Apple, but Elena said she's finding it has its own charm.
"My daughter, Emani, loves the swimming pool and Julian is involved in all the sport activities. I think it's a great place to raise children.
"And when people talk about violence here, I say 'Where is it?' Any violence here is minimal compared to the daily violence in New York City," she said.
One member of her family, her divorced father, Carlos Velez who moved here with her last year, has returned to New York City, where he has family and felt more at home. But Elena is anticipating that her mother, an accountant, may soon be moving to Sunnyside to join her in the business.
.