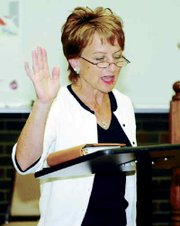 GRANDVIEW - Jan McDonald, executive director of Life Options (formerly Lower Valley Pregnancy Center), was named to replace Rick McLean on Grandview's City Council, at Monday night's meeting.
McDonald, a resident of Grandview for the last six years, put her name in the hat with four other possible choices. Lawrence Bolan, Pat Bratton, Carlos Diaz and Andrew Hamil.
Each person vying for the council seat gave five-minute presentations to the council on why they should be picked. Diaz was a no-show at Monday's meeting.
Bolan brought to the table an impressive education and work history. He told the board he would like to give back to the community that has given to him the last five years. He said as a result of his education, he had been introduced to the scientific method and would like to apply this method to the city council and city employees.
Bratton has been a Grandview resident for 11 years and wanted to see better use of city finances.
The youngest candidate for the council position was Hamil and he was also the longest resident of Grandview, at 22 years. He told the council he was a hardworking man who enjoys his freedoms and his family. He said he believed in, "...getting your elbows dirty." He told the council he would bring a unique outlook to the city council.
McDonald told the council she likes to manage resources and her favorite resource is the youth. She is a member of the Grandview Planning Commission and said she would like to bring more diverse businesses into the area so Grandview's youth will grow up and choose to stay in the area. She added she was a great team player.
After each prospective council member presented, the council went into executive session for about 35 minutes before emerging with its decision.
Council member Pam Horner made the motion to select McDonald. "They were such well qualified candidates it was a difficult position to take," she said. Horner said the council decided on McDonald because of "...her experience on the planning commission." She also mentioned the planning commission is on the same page as to the direction the council wants to go.
"I'm excited about it," McDonald said. "Youth is very important."
She added she would like to see the young people succeed and it was up to the council to model this success for them.
She said she would like to see the younger generation stay in Grandview so they can further the success of the community using what they've learned.
.