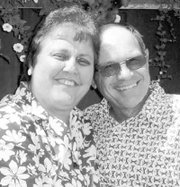 Tim and Robin Lee (Downey) Smith of Grandview celebrated their 25th wedding anniversary a little early this year, with a white water rafting trip on the Deschutes River.
The Smiths, who met when Robin purchased flowers from Tim's nursery for the city parks, were married Aug. 22, 1981` in Bethany Presbyterian Church in Grandview.
The anniversary couple has two sons, Andy of Seattle and Roger of Grandview, and a granddaughter, Evan of Seattle.
Mrs. Smith, who is currently a kindergarten teacher at McClure School in Grandview, has also worked as the director of the City of Grandview's Parks and Recreation Department.
Her husband, who owned and operated Tim's Yard and Garden Retail Nursery, is employed in maintenance at Smith School in Grandview.