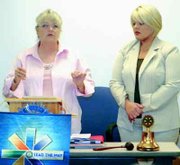 Sunnyside's Sunshine Days are set and ready to go two members of the Sunnyside Chamber of Commerce told Rotarians at the Sunnyside Daybreak Rotary Club meeting this morning.
Mary Ann Bonny, executive director of the Sunnyside Chamber of Commerce, and Brezzi Campos, president of the chamber, were on hand to discuss coming events being scheduled by the chamber.
First on the list was the Sunshine Days celebrations. The weekend starts on Friday, Sept. 15, at noon when the carnival opens at St. Joseph's lot. There will be food booths and vendors and the carnival will close at 11 p.m.
On Saturday, Sept. 16, the Kiwanis Club are considering hosting a pancake feed at the United Methodist Church on Ninth and Edison, before the parade.
At 10 a.m. several things will be going on, according to Bonny. A soap box derby will be held on Grant Street next to Central Park. The carnival, food booths and craft bazaar will also begin at 10 a.m. at St. Joe's lot.
The Sunshine Days parade will start at 10 a.m. at Sunnyside High School, heading west on Edison Avenue until turning south on Sixth Street. The parade will end at the Lincoln Elementary School parking lot across from St. Joseph's Parish Center.
A classic car and motorcycle show will be held from 11 a.m. to 7 p.m.
A stage will be set up on the St. Joseph's grounds where entertainment will be presented. Local entertainment will perform from noon to 4 p.m., followed by the Sunnyside High School Mariachi band.
The Riders of the Western Range will give a concert from 5 to 7 p.m. The carnival will close at 11 p.m.
Sunday, Sept. 17, the carnival and vendor booths will open at 10 a.m. and close for the day at 4 p.m. This is when the clean-up will commence.
"We need lots of volunteers," Bonny reminded the Rotarians. She was speaking of the clean-up effort and help with the parade.
Bonny also spoke about some projects the chamber has planned. One of them is a tri-chamber workshop with YVCC where six three-hour classes will be offered once a month from October to May with no classes being offered in December.
The chambers from Sunnyside, Grandview and Prosser will pick the classes together and offer these to the business communities in the three cities. Some subjects floating around are attracting new customers, attracting tourists and marketing, among others.
Bonny explained to the Rotarians these are college level classes. "This program will allow people to take these classes much cheaper than if they just went to YVCC," Bonny said. She said the goal was to enhance business growth and development in the area.
Another program Bonny and Campos were excited about was a proposal from the Greater Yakima Chamber of Commerce to form business education partnerships with schools.
Businesses will work with schools and offer students internships, job shadowing opportunities and more.
One program Bonny was excited about is called lunch buddy. This is where local business people would be a friend and role model to a third-grade student in a mini-mentoring environment. Local business people would volunteer to have lunch with an at-risk student once a week. The mentors could then monitor their progress in school and encourage them to do better.
"I really think this is a good one," she said.