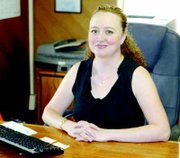 Noemi Muñoz has been happily married for seven and one-half years and very happily employed for the last five.
"I'm a people person," Muñoz explained. "I really like talking and working with people."
Muñoz was born in Illinois and moved to Sunnyside as a small child where she was raised by her father. She attended Sunnyside schools until moving to Grandview to finish off her education. She eventually moved back to Sunnyside.
Muñoz has mainly worked office jobs in her life, but the first job she ever held was helping her uncle out in his store. "I enjoyed it," she said. "That's where I first learned I really like working with people."
For a time, Muñoz worked as an interpreter for an agency in the Tri-Cities, servicing the three hospitals there and a few out-patient clinics. She found this job especially rewarding. "I liked helping people," she said.
After that, she worked as a receptionist for Mountain States Construction for about a year. Again Muñoz was able to use her people skills in her job.
"I answered phones and greeted people," she said. "Basically, I did a little of everything."
Wanting to deepen her involvement with people, she took a job at State Farm Insurance Company with agent Ben Sartin.
Before she was able to work fully in the insurance industry, Muñoz had to get licensed by the state. After she was licensed, she had to add to her training, this time at State Farm Insurance.
The time it takes for people to pass through the training is different for everyone, but Muñoz managed to get through her training in two months.
Muñoz started out in sales and service, but eventually worked her way up to office manager.
She sells auto insurance, fire insurance, life and health insurance and works with State Farm banking.
For some years now State Farm has offered a banking service, she said. The bank offers savings accounts, checking accounts, credit cards and financing.
Even with all these options, she said most people coming in are interested in auto coverage.
"I really like insurance," she claimed. "I don't look at it as selling. It's more educating people."
She recalled a time when an older lady came into the office confused about some changes on her insurance policy. Muñoz sat down with her and explained the changes until she understood them.
"The next day she came back into the office and brought me flowers," she remembered.
It's situations like these that makes Muñoz love her job.
"I can't say there is one thing I don't like about this job," she said. "I love coming to work in the morning. I have a great boss and great co-workers. They make it very easy for me to come to work."
Muñoz and her husband have two children, ages six and one-half years old, and a three-month old baby.
"Our boss is very family oriented," she said. Because of this she has plenty of time to do her favorite activity, spending time with her children and husband.
Family is important to her. She said when you sell life insurance to someone and if something happens and the check is handed over, "...you feel like you've done your job properly."
She went on to add, "It feels so good when you know you've helped someone. It's hard to describe. There are a lot of people that return and ask for me. It makes me feel good to know people are happy with the service I give them."
"This job is very rewarding," she added.