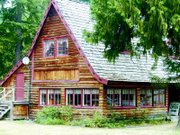 GREENWATER - The small town of Greenwater is nestled in the foothills of the Cascade mountain range past Mt. Rainier and near the town of Enumclaw. Pioneers trekked across the still rugged Chinook Pass, then called Naches Pass, in 1853. Remnants of the a time long passed can still be seen as one enters the town.
Throughout the years, the town has persevered through floods and remained a unique place for wayward travelers, hikers and winter sport enthusiasts to rest their tired feet and enjoy the atmosphere of a world away from the rush and hustle of city life.
State Route 410 that runs through the town of Greenwater is dotted with rustic buildings entangled in moss, and on some days wisps of fog.
One would be surprised to know that in Greenwater a local business thrives internationally. Wapiti Woolies, a company started by Bob and Debbie Grubb. Established in 1974, the company began with Bob knitting hats. When they did not turn out well, they purchased a machine that allowed them to produce hats that are now known by skiers all over the world.
The popularity of their knitted goods became a phenomenon and are said to be the finest hats available anywhere in the world. They are designed and made individually for customers in the small community of Greenwater.
In a world where the meaning of community seems to be lost, Greenwater strives to uphold the strong bond that formed in the community from the beginning of the town.
During the summer a six-week long horseshoe tournament is held for the locals of Greenwater, according to Nicole Fantello a barista at the cozy Starbucks in Wapiti Woolies. "We have canoe races every third weekend in August," Fantello said.
For Christmas the entire town gathers at the Naches Tavern for a party. The tavern is the kind of place where a person can roast their own hot dog, swig beer that has a mountain-fresh taste and grub on delicious food in an environment nostalgic of a time long past. Loggers' helmets line the walls, some crushed beyond belief.
The antiques and knick-knacks that decorate the walls were donated by locals and those just stopping by for a bite.
The Greenwater Lodge and Coffee Shop boasts that it has the best biscuits and gravy on the mountain, and they have blackberry pie to go.
Buzzy's Greenwater Cafe offers the best breakfasts and burgers around and claims to be internationally known.
The charm of the town is enhanced by some modern touches. Some places have High-Speed Internet Access, making this very mountain town seem not so remote.
The town of Greenwater is not big by any means, but the people who live and work there certainly make it memorable.