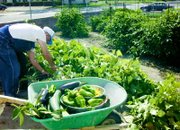 When Lloyd Myers was diagnosed with cancer in January 2005, he knew some changes would have to be made.
And this summer he put one of those changes to work in his home garden in Granger.
"I increased the space between the rows so I could take a gas-powered tiller through instead of hoeing by hand," said Myers with a big grin.
Myers has been growing edibles for as long as he can remember. And 36 years of his planting has been done in Granger.
A transplanted East Kansan, Myers said he's still trying to grow a watermelon that can compete with the Texas watermelons he enjoyed in Kansas.
"They were the sweetest!," he recalled.
The little Sugar Babes he's raising in Granger come the closest to their Texas brothers, he claims.
"It's all in the seeds. These melons without seeds don't have the taste," he said. And he prefers to keep mum on the hullabaloo that's raised over Hermiston melons. But can't resist sneaking in another plug for those Texas sweets.
If Myers hasn't yet turned out the type of melon he's looking for, he is filling his garden wheelbarrow to overflowing with all kinds of other produce.
Some of his Armenian cucumbers were being taste-tested at the recent Granger Lions yard sale taking place right next to Myers' property. "They're good," said Bobbie Cliff, who was sharing one with Mavis Larson. The white, smooth-skinned cukes can be eaten without peeling and the one Cliff was sharing rivaled Texas melons for sweetness.
On his 50- by 30-foot patch, almost in the center of town, Myers also grows rhubarb, cantaloupe, tomatoes, beets, Swiss chard, peppers, zucchini, green beans and eggplants the like of which haven't been seen on grocery shelves in a long time.
"It's a small garden, but you can raise tons of stuff on it," said Myers. "That's the difference between growing here and in Kansas. In Kansas, it takes a lot more land to raise the same amount of produce you can raise here."
Even with his gas-powered tiller, Myers prefers to avoid weeding. And he does that by the way he plants his crops.
"Some people plant in hills. I plant in these little basins," said Myers, pushing aside some lush squash vines to reveal a circular depression from which sprouted all of his squash vines.
"Then I water just in the basin. There's no use watering way out there," said Myers, waving an arm in the direction of the spreading vines heavily laden with squash blossoms. "If I did, I'd just have weeds out there."
He marks the center of each basin with a pipe that has nothing to do with the watering system, but a lot to do with helping Myers pinpoint the roots of his plants through the thick foliage.
He uses the basin-planting system for all his vegetables, and his weed-free garden speaks well for the system he designed.
While Myers is definitely a farmer at heart, he worked as a parts manager for a Ford dealership for 30 years and also was transportation director for the Granger School District and even taught auto mechanics for eight years. Even though he retired in 1998, he was driving school bus right up until he received the cancer diagnosis. Now he's completed all his treatments and has received a clean bill of health.
He said he intends to continue his search for the perfect watermelon, and will sample what Texas is offering this season when he and his wife, Barbara, vacation in Kansas.