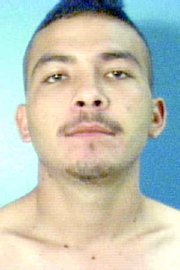 GRANGER - While in transit to court last night, a rape and assault suspect escaped from a Granger police officer.
Elvin Acevedo Gomez, 22, of Yakima, had been charged with a fourth degree assault and second degree rape, which allegedly occurred during a July 17 party in Granger.
Granger Police Officer David Leary transported Gomez from the Wapato jail, where he was being held while waiting for a court hearing in Granger last night on the assault charge. Granger Police Chief Robert Perales explained the city does not have a jail cell, and uses Wapato as a holding facility.
After Leary had driven Gomez to the Granger court, located in city hall, the suspect fled when Leary turned to close the car door, said Perales.
"He bolted," Perales said of Gomez. When Leary turned to give chase, he stumbled and fell and was not able to catch up with Gomez, Perales said.
Leary called for back-up as Gomez fled west across Main Street into Granger's business area, Perales noted. Gomez later was believed to have fled into some tall brush and cornfields.
Perales said the city received support from the Washington State Patrol, as well as the Wapato and Zillah police departments in searching for Gomez.
Perales said the city also received assistance from the Kennewick Police Department's tracking dog unit, which lost Gomez's scent.
Police abandoned the search at about midnight, Perales said, and Gomez remains at large.
Gomez is 5-5, 165 pounds, with brown eyes, black hair and a small goatee.
Anyone with information on Gomez or his location is asked to call 911, local law enforcement or Crimestoppers at 800-248-9980.
As a result of the escape, Perales said there will be changes in the way Granger processes prisoners from jail to court.
"Immediately we are going to be changing the procedure so that all prisoners will be shackled and restrained in leg irons so something like this doesn't happen again," he said.
Further, Granger will have a police officer standing outside when a prisoner is delivered to the city court.