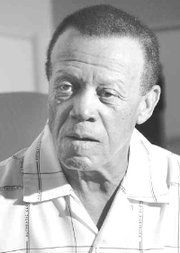 As a muzak version of "The Way We Were" wafted over the lobby in Yakima's Hilton Garden Inn yesterday, baseball great Maury Wills described the way it was during a 14-year career in the major leagues, most prominently with the Los Angeles Dodgers.
Wills, who turns 74 in October, held court at a press conference as he faced a barrage of cameras and questions on a career that saw him raise the bar for base stealing standards in the early to mid 1960s.
He grew up in Washington D.C. and said he knew he wanted to be a major leaguer from the age of eight or nine, when a player from the Washington Senators, Jerry Priddy, gave up two hours of his time to visit with Wells and other young ballplayers.
"One man can make a difference in another person's life and Jerry made a difference in my life," Wills said.
His wide-ranging conversation also covered his appreciation of the recent revival of base stealing in the big leagues and his continued hopes to some day be voted into the Hall of Fame.
Wills said there are "tons of guys" voted into the Hall who put up lesser numbers than he did in the majors.
"But I'm not going to drink over it," he laughed.
He laughs now, 17 years clean and sober, but there was a time when the way things were for Wills were declining fast, thanks in large part to an alcohol and drug addiction.
The low point, he says, came in the early 1980s when he coached the Seattle Mariners for two seasons. Wills says now that the best thing would have been to turn down that offer.
"I was in a bad place, then," he said. The worst of the worst came when he was fired by the Mariners. "I drove 1,500 miles back to Los Angeles," he recalled. "It was so traumatic for me." Wills said that led him to lock himself in his house for a period of about 10 years, which led to heavy alcohol, then drug use.
To this day he doesn't know how the doors to his home, and his addiction, were unlocked.
"There's a higher power," he said of the recovery process he went through. Wills credited the Dodger organization for guiding him into recovery.
He said once he entered a recovery program he was able to admit his addiction, and joining the company of others overcoming their own demons was a turning point.
And it was recovery that brought him to Yakima yesterday, as the afternoon press conference preceded the Sundown M Ranch's 21st annual Merrill Scott Symposium last night. The ranch's work includes helping people through the addiction recovery process.
"I have a pile of requests to speak," he said. "But I came here because it was Yakima."
The Yakima draw, he continued, is the fact the minor league Bears ball club there was once in the Dodger organization.
In addition, Wills has a little known connection with the Lower Valley and the Tri Cities.
Some in Sunnyside still recall Wills's traveling lounge act, which included a performance of the song "Tiny Bubbles" at the Safari Lounge on Edison Avenue.
"I'm surprised people still remember that," he laughed a bit sheepishly. "I can't believe I used to do that. When you're young you'll do anything, I guess."
His act in Sunnyside and Pasco were practice runs, he said, for performances on a much bigger stage in Las Vegas.
That all started, he recalled, when Milton Berle took some of the Dodger players, including Wills and other luminaries such as Sandy Koufax, to lounge performances in Las Vegas.
Wills may no longer be on the lounge circuit, but he is a fixture on the Dodgers' circuit of minor league ball clubs. He says he teaches the young players the basics, like bunting and base stealing, which became lost amid the home run power surge in the 1990s.
Among his protégés are San Diego Padre standout Dave Roberts.
The miles and years he has traveled since his own playing days ended in 1972 have been a maturing and humbling period.
He admits that some of the young players he trains don't know him or his accomplishments, which included smashing Ty Cobb's single season stolen base record in 1962. That same season he edged out Willie Mays for the National League MVP award.
"One of the guys saw me on ESPN Classic and asked if I really stole all those bases," Wills chuckled.
He takes it all in stride, though.
"I used to get mad at the players," Wills said of his early days as a coach. Now he treats them with respect and doesn't judge, he says. After all, the opportunity to coach them is a way to keep in contact with the game he loves.
And it's a game that loves Wills, even if he isn't in the Hall of Fame.
His favorite moment as a player wasn't the stolen base record, the MVP award, making the big leagues after toiling in the minors for eight years or even winning a World Series.
No, his favorite moment came late in his career, he said.
"I was traded to Pittsburgh after the 1966 season and I cried like a baby," he recalled. His all-time favorite highlight came two seasons later when the Dodgers brought him back and re-introduced him before his first game in a Dodger uniform.
The response and standing ovation from the audience of 45,000 true-blue Dodger fans were deafening, and delayed the start of the game by more than four minutes.
"Willie Mays wouldn't get in the batter's box so the umpire called a strike," Wills chuckled as he described how the game finally got underway in the wake of the extended ovation.
"They (the fans) didn't do that because of what I did on the field," he adds with a sparkle in his eye. "But because they liked me personally."
Even now, Wills still has that personal touch.
Just as he patiently signed autographs for hours after Dodger games, Wills bantered with the media yesterday for more than an hour as he was peppered with questions about the past and present.
As the chat wound down, the muzak in the background should have switched to "Take Me Out to the Ballgame."
Upon learning that the Yakima Bears were playing at home last night, Wills's eyes lit up, his enthusiasm for the game-and life-as vibrant as ever.
"I'm going to the Bears game tonight!" he said. When told his appearance at Sundown M would run until about 9 p.m., Wills countered that he would still go to the game, even if it meant catching the final innings.
"That's all right," joked a Bears' official on hand for Wills's visit. "We'll just wait for you to get there."
A Maury Wills game delay?
Now that would seem appropriate.
Appropriate the game wait for Wills, given that he waited eight years to make the big leagues and has waited 30 years for a vote into the Hall of Fame.