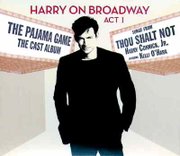 Why? That's the first question I asked myself while listening to Harry Connick, Jr.'s 2006 double CD release of The Pajama Game and Thou Shalt Not.
Released in May, the two-disc effort features numbers from the Tony nominated show, The Pajama Game, with duets with co-star Kelli O'Hara. The second CD features selections of new music from his 2001 Thou Shalt Not.
I'm not a huge Broadway fan and I think that's why I was lost from the beginning. I just don't like the music.
Connick just has too many ballads on the set's first CD and his slow, soupy voice bugs me. I admit the guy has talent. He composes his own music and usually writes his lyrics. He can arrange music better than I can, but I couldn't get into these two CDs.
This music will probably work for fans of 50's Broadway musicals or fans of Frank Sinatra but he loses me completely.
This is one review where I'm sure some people who know Harry's music and like him will disagree with me. Those who don't like big-band music should run away very fast if they see this album in the stores. If they happen to touch it, they should wash their hands immediately for 30 seconds while singing Happy Birthday to Me twice.