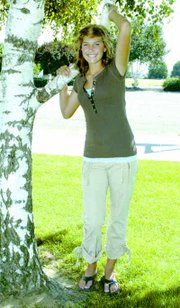 Andrea Schutt, a 16-year-old junior at Sunnyside Christian High School, couldn't imagine not attending school with her classmates.
"They're the same classmates now as they were when we first started school," she said of her class' tight bond with one another. "I look at them and think I couldn't live without them. We've been through thick and thin together. We're there for each other."
Her parents' decision to send Schutt and her brother to the Christian schools in Sunnyside is one of the reason she lists them as role models.
"They've sacrificed everything for my brother and me," she said. "It's a huge sacrifice to give us a Christian education."
Schutt is now creating another bond with seven other ladies as they each vie for the 2006-07 Miss Sunnyside title. Schutt and the other contestants have been busy as of late, practicing for the pageant. The girls go through each portion of the show once a week. They even practice winning with a different girl getting picked each week.
"It's always someone different," she said. "You still get nervous, even though it's just practice, waiting for the name to be called out."
Schutt said she's excited to be running for Miss Sunnyside.
"I'm excited for the experience," she added. "No matter, win or lose, I'll walk away with knowing something new."
She's had a few cousins and some friends run in the past and thinks it's a tremendous experience.
Schutt has many younger girl cousins and she likes being a role model to them. She wants to use the title of Miss Sunnyside to take that to the next level and be a role model for the community she lives in.
She said she is a very loyal person who is strong willed and goal oriented. "If I set a goal for myself, I do everything in my power to fulfill that goal," Schutt said.
Her service project she will perform if she is named Miss Sunnyside will be working with the Pearl Hughes Guild of Children's Hospital and Medical Center. She would like to raise money for the guild by doing various fund-raisers like car washes and yard sales. Her goal is to raise $1,500 for the center.
At Sunnyside Christian High School she is involved heavily with the volleyball and basketball teams. The two-sport athlete has played volleyball since the seventh grade and basketball since the third grade.
"My family is a huge basketball family," Schutt confirmed. "It's a passion for me."
Schutt expects to play on the varsity team for both sports and has been training during the summer, doing exercises, running and lifting weights.
She will be in honors choir this year at school. She'll meet in the morning with the other honors choir members before school and practice. The choir also competes against other schools. Singing is a favorite pastime for her with country being her favorite music to sing.
She's also a member of the Sunnyside Christian High School FFA and yearbook committee.
Her favorite class in school is history. "I find history very interesting," she explained. "I learn something new every day in history class. It 's something that fascinates me."
She doesn't know what she wants to do when she is finished with her schooling. Sports therapy rehabilitation is interesting to her but so is elementary education.
"I love kids, period," she exclaimed. "Everything about them." She was a nanny over the summer and said she loved going to work every day. This year she is going to be a teacher's assistant at Sunnyside Christian Elementary School.
She also admits to flirting with thoughts of modeling when she's older. "I think it would be another fun experience," she added.
Her hobbies include sports and swimming. "I love the water," she said. Schutt likes to go tubing and knee boarding as well. Hanging out with friends and watching movies is also high on her list of things to do.
For the talent portion of the pageant Schutt will perform a monologue titled, "Where have all the Prince Charmings gone?"
It's about the state of manners for the average teenage male and why they are so handicapped by them.
"When it comes to manners they should be able to park at the front of the mall," she said.
She said she chose the monologue out of a book she found at the library because it's comical.
"I like to make people laugh," Schutt said. "I'm energetic and very outgoing. It's not very often I'm outspoken by someone. I talk a lot."
Besides naming her parents as role models she also named her cousin, Lance den Boer. "He's a tremendous athlete and I respect how humble he is," she explained.
She also named Jesus Christ, her savior, as a role model.
"I'm a better person with Jesus Christ in my life," she said. "He's my foundation. He keeps me strong and steady. I never feel unsure about my faith."