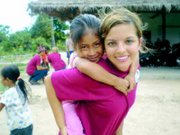 Aarika Hernandez spent three weeks in June and July at a Florida boot camp preparing for mission work in Cambodia.
In actuality, the 15-year-old Sunnyside girl seems to have been preparing for the experience most of her life. She took to the two months of tent living like a duck to water.
She laughs when she says the teens who took part in the mission "ate rice, rice, more rice and Kool-Aid" to avoid getting parasites from the local fish or meat.
"I learned we take a lot of things for granted here," she said.
"Like running water, somewhere to live in a sheltered place, a family because we didn't have ours there, electricity and food other than rice," she said.
In anticipation of their two-month stay in the small village of Sobhan in the steamy heat of Cambodia, the teens gathered together in the states first, on Merritt Island in Florida, where they got a sample of what they would be experiencing.
"We trained in evangelism and construction classes. We'd get up about 5:30 and go to bed at 9:30. We had about an hour of free time every day," said Hernandez.
After sweltering in Florida's heat from June 21 to July 7, they were prepared for the tropical climate.
When Hernandez flew off alone to Florida, it was her first long distance trip alone.
"I'm not a very fearful person, and I prayed about it. It was fun," said Hernandez, who took the long ride from home in stride.
"From Florida, we flew to Newark, New Jersey and from there we went to Sweden and on to Malaysia and then to Cambodia. We arrived at Phnom Pehn, the capital. It's kind of big," she said.
"It wasn't as hot in Sobhan as in Florida, but it was still pretty hot, 95 degrees most of the time with high humidity. By then, we were used to it," she said.
But then she broke up into laughter, recalling how the children at the orphanage, next to their camp, over time came to say "You smell" to the teens.
"They'd say that because we did smell because we didn't get baths," said Hernandez, who admitted water for bathing was available but the teens were reluctant to spend their laundry and bath time hand-pumping the water needed for the chores.
"You either pumped it by hand or used your feet on a bicycle pump to get water," she said.
The children at the orphanage were the focal point for much of the mission work the teenagers took on.
"There was an AIDS hospital where families stayed with parents who have AIDS. The orphanage was down the street, and, when the parents died, the children went to the orphanage," Hernandez said soberly.
She said the teen team spent a lot of time with the orphans.
"We'd teach them sports, how to play soccer. Actually, they taught us. They were very good. We brought a lot of stuff with us, a volleyball net, and they were really good at that, too.
"Their ages ranged from 3 to 18," said Hernandez, who was involved mostly with the younger children who, she said, liked to ride on her back or climb into her lap while another would comb her long hair.
"Often they'd just come to our tent site right next door and play with us. They had their own version of rock, paper, scissors. We spoiled them!" she said exuberantly.
"It was a Christian orphanage. I think there were about 65 children there. The older kids were harvesting rice. There were rice fields all over, one right next to the orphanage. A lot of the time the little kids, 9 or 10 years old, would have to climb up trees to cut off coconuts or they'd cut pineapples. It was for their own use. They were living in this very small village and they'd just get their own food that grew naturally."
The teens gave classes in the English language. "I would teach the beginners, and most were still pretty young."
Hernandez said about eight of the children had contracted AIDS.
"I don't think they realized the extent of the illness," she said.
She said all of the teens knew the people they would be working with were AIDS patients or were children of AIDS patients.
"There was no problem. And the kids were really good about it, too. If they had scrapes from soccer, they wouldn't let us touch it," she said.
Like a duck to water.
That's how Hernandez accepted a culture in which she was at home for two months. She took pictures of a typical market bogged down, soggy and muddy. She laughed, recalling a ride in a rubber-tired cart that took them to town and got a flat on the way.
She laughed more when she told about the "special blessings" that would be granted the teens if they were late to class, were too loud in the cafeteria line or if their tent site wasn't clean.
"There were many things you could get special blessings for, and the blessings were cleaning the bathrooms, kitchen patrol, cleaning the Big Top where rallies were held or mixing cement for a sidewalk that was being made," said Hernandez.
There were other blessings, too. Real blessings, like adding Cambodia bread to the rice diet.
"It's chewier, denser. And occasionally we'd get soup, soup we brought from the states. Usually tomato or potato. The orphans ate baked or smoked fish with rice every day, but we were told it wouldn't be healthy for us because of the parasites, but they told us the orphans were immune," said Hernandez.
There were morning devotions, then a breakfast of powdered milk and cereal, an hour for laundry and baths, time for sports, the play with the orphans and the English classes.
"And I learned the power of prayer," said Hernandez.
She related an example: "We went to an island and an older lady was there who had great pain in her legs and couldn't walk. We all prayed with her, and she got up and started walking. She was still limping, but she hadn't walked in a long time," said Hernandez.
"She thanked us for praying with her. She said her leg didn't hurt as much.
"I also learned not to touch kids on the head. I guess that's offensive in their culture," she said.
She and the other teens wore boots and pants all the time in spite of the heat. "You wouldn't wear something like this," she said, pointing to the shorts she was wearing. "They wouldn't be accepted in their culture. We didn't want to offend them."
Hernandez was generous in sharing her experiences and the photos she took in Cambodia. And, as she told her story, her eyes flashed with excitement and the words tumbled out enthusiastically.
At the conclusion of her interview, when asked if she would ever consider leaving hearth and home again to live in a tent in a muddy little village in Cambodia, she didn't even pause before replying.
"In a heart beat!" she exclaimed.