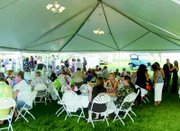 The Sunnyside Community Hospital Foundation hosted an Evening in the Park at Grandview Country Park and Fairgrounds to raise funds via an auction for the Emergency Room Department remodel this past Saturday. The total cost of the project is $2.7 million. $1.2 million is presently invested by the Sunnyside Christian Hospital Foundation.
The remodeled and expanded department will meet newly defined privacy standards with six urgent care examination rooms separated from emergency examination areas.
A few items available for auction were a week in a Kona Coast condo, a tour of the valley in a model T Ford and a 1982 GS series Suzuki cruiser.
Rachel Lucas/Daily Sun News
Grandview Country Park and Fairground received an elegant makeover for this past Saturday's Evening in the Park that raised funds to benefit the hospital's Emergency Room Department remodel project.