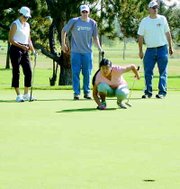 The 14th annual Sunnyside Community Foundation Golf Tourney had one of its best turnouts ever this past Saturday, with a full capacity field of 88 players forming 22 teams.
Tourney organizer Carol Allen said there are typically 17 or 18 teams, representing 68 to 72 golfers, who compete in the annual tourney.
Allen said the golf tournament, held on the Black Rock Creek Golf Course, is one of the foundation's biggest fundraisers and brings in $10,000 to $12,000 each year. She said this year's proceeds, which include team entry fees and corporate sponsorships, will be designated for improvements to Sunnyside Community Hospital's emergency room.
Earning first-place honors among net scores was the team of Dave Woodland, Susan Woodland, George Baker and Bob Story with a score of 45.25.
Second place in the net scoring category went to Bill Van de Graaf, John Lesko, Bob Van de Graaf and John Cullen, who carded a score of 50.15.
Taking home third place in net scoring were Clyde Robinson, Nate Bridges, Doug Federspiel and Fred Cruz, who combined for a score of 50.7.
First-place honors among gross scores went to the team of Balbino Benetiz, Juan Guerrero, Jose Contreras and Antonio Hildalgo with a mark of 53.
The team of Manuel Herrera, Andrew Schutt, Justin Bos and Scott Davis earned second-place honors with a gross score of 54.
Bringing home third place in gross scoring was the team of Terry Bliesner, Mary Ann Bliesner, Gene Bliesner and Brian Bliesner, who combined to card a 55 on the Sunnyside links.