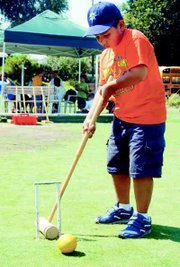 GRANDVIEW - Wickets and birdies, croquet and bocce ball, were part of the new games, and lingo, that 85 youngsters learned on Tuesday, Aug. 22, at Merle and Dorothy Cohu's Hollow Way Meadows in Grandview.
The children, ranging in ages from five to 12, were visiting as part of a summer day camp provided by the Yakima YMCA.
"It gives them a chance to experience games that are new to them," said Mikeal Doyle, a YMCA child care director, as she helped guide the youths from one game to another.
They took turns trying their hands at each of the lawn games the Cohus offer. The selection includes horseshoes, badminton and, of course, croquet.
"Croquet is pretty fun," 12-year-old Sterling Sauve said as he took aim at a wicket, a horseshoe shaped-wire.
Though the children didn't play it yesterday, bocce ball is also available at the Cohus' sports complex. It is a sport where participants take turns seeing how close they can roll a ball to a target in the form of a white ball.
Other games which proved popular with the young tykes were variations on the more formal game of croquet such as toequet, in which participants kick a ball through small wickets.
Tuesday's day camp at the Cohus marked the fourth summer the Yakima YMCA has visited the Grandview couple's home.
But the youngsters are just the latest among hundreds, if not thousands, who played croquet on the Cohus' property since the couple turned their Euclid Road home and yard into The Lawns at Hollow Way Meadows in 1994.
The Cohus first became interested in croquet after Merle suffered a stroke in 1991.
In addition to enjoying playing the game, their research into croquet gave them an appreciation of the sport's British history and long-standing traditions that include wearing white while playing the game.
Their enthusiasm led them to convert their yard into perfectly trimmed greens for croquet, as well as other lawn sports.
Croquet reigned supreme at the Cohu home for more than a decade. They converted their garage into a pro shop/clubhouse, complete with a deck overlooking the greens.
The location's name, Hollow Way, was derived from Dorothy's maiden name and their lawn really is a large meadow-like area adjacent to Dykstra Park.
Dorothy said they hosted four to six U.S. Croquet Association-sanctioned tournaments each year. The games were played by croquet's official rule book, which Merle joked runs 68 pages. That includes the requirement for all participants to wear white.
The Cohu's Grandview home/croquet center saw competitors from throughout the U.S. and Canada.
"We found out later that we had a Texas billionaire play here," Dorothy grinned. "I'd never met a billionaire before."
The couple-Merle is 75 and Dorothy 71 years old-last hosted a tournament three years ago and enjoy a more relaxed pace these days.
"We're retiring a little bit from it," said Dorothy.
Their grounds are still open for all day rentals-the lawn recently hosted a church service-and the greens are available for a host of lawn games.
"It's so challenging," Dorothy said of croquet, in particular. "And you meet so many people."
She's not only a fan of croquet, but of the children-like those who visited Tuesday from the YMCA-who are learning the sport for the first time and gaining an appreciation for the game.
"I'm happy to have them here," Dorothy said. "It's fun to show them all these different games."
With its tidy greens and leisurely pace, croquet may even be able to offer a new generation some old world values.
That's what Dorothy seems to observe, as well.
"They're just a nice bunch of kids," she smiled as she watched them play from the deck. "They're polite and they put everything away."