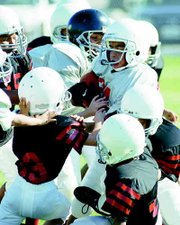 WAPATO - Running into a stubborn defense and an offense with a knack for finding a few extra yards when they needed it most, the Sunnyside Grid Kid "A" squad came up on the short end of a 29-6 loss against the defending champions Grandview Grid Kid team.
Early on it looked as if defense would need the name of the game as both teams struggled to move the ball. Grandview struck first with a sweep around the right from about 50 yards out, then put together a punishing inside game that wore the Sunnyside defenders down as the moved in for the score. Just before half-time Sunnyside showed a spark as they were able to move on the ground and through the air.
Quarterback Marcos Yanez hooked up with Rigo Valdez on a 45-yard pass, that split two Grandview defenders and into the waiting arms of Valdez, to account for Sunnyside's only score.
The start of the second half was more of the same for Grandview as they moved the pigskin in for the score with a punishing inside game and an outside game that took the wind out of the sails of the Sunnyside defense.
Grandview was able to tack on an insurance score that accounted for the final score of 29-6.
Both teams have Labor Day weekend off before they jump back into action on September 9.
Not faring any better the Sunnyside Grid Kid "B" Red and the "C" teams both absorbed losses to start their season.
The "B" Red looked strong early but fell apart after the Grandview team scored and gained some confidence.
First game jitters may have played some part as passes were dropped and mistakes plagued the team through out.
The Sunnyside "C" team made it a good accounting of itself as they battled the Grandview "C" team to a 14-7 loss. Again defense was the key as both team's offense were unable to move the ball.
Like a couple of heavyweight boxers the teams traded body shots until Grandview found success with a sweep that scored and Sunnyside was unable to find and answer to the swarming defense.