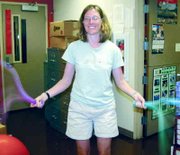 When Robin Bryson is not running, coaching track and cross-country, working on her house or participating in ultimate Frisbee tournaments around the state, she teaches ninth grade science at Sunnyside High School.
Bryson grew up in the Moxee area and her family later moved to Yakima, where she attended Eisenhower High School.
From an early age, Bryson had the itch to run. "My parents thought I was nuts. I always wanted to run," said Bryson.
She was first exposed to running in first grade when a teacher recommended she try it. She started running competitively in third grade and continued to compete through college.
She won state honors at Eisenhower in track and was a high school All-American for her cross-country efforts. Bryson was a college All-American in track. She also placed third at Nationals in the 4 by 800 relay team in college.
After graduating from the University of Texas in Austin, Bryson went on to earn her Master's degree at Washington State University.
Her love for running has led her to England and Ireland four times as a coach and chaperone for the Eisenhower High School cross country team. Bryson's high school cross-country coach has her come along on the trips to help out with the team.
This past summer Bryson worked at a cross-country camp for three weeks in Juolf course. It camp draws 140 kids each week, according to Bryson. Summer camp is nothing new for Bryson as she has spent 17 of the last 19 summers at various camps, she said.
One summer job that Bryson had involved working with the road and maintenance crew for Yakima County. She was on the flag crew and repaired pot-holes, among other things.
Working at John I. Haas as a hop tester was another summer job Bryson tackled.
The last three summers, Bryson has been putting siding on her home, remodeling, painting and tearing up carpets. This summer her home in Prosser almost has a complete exterior paint job. "I am hoping to have the outside finished by fall," said Bryson.
For the past seven years Bryson has been teaching at Sunnyside High School. She began as a biology teacher and now teaches physics. She has been the head track coach for seven years and head cross-country coach six years.