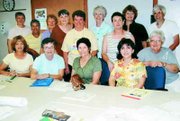 "We're all still learning," said Joyce Heffron of Outlook, about the local investment group for women in which she participates.
The idea to start a group came about when Barbara Merz became interested in investing. She began talking to other women who were interested and within four months the group had 20 members. The group only allows 20 members at a time and has had a waiting list until recently.
The investment group is set up to educate women on investing, regardless of their background or level of experience in dealing with investing.
The group holds a meeting the third Monday of every month at 7 p.m. in the Sunnyside Hospital board room. The meeting is devoted to the entire group sharing information about their current stocks or information they have gathered through their research.
"The women are required to research investments for their meetings by reading newspapers, magazines, value-lines, the Wall Street Journal, Forbes and Better Investing. From that research the women are required to find what they would like to invest in," said Heffron.
Value-lines are integral, decision-making pieces of information that the women use to determine whether the investment is a good choice. They give a history of the past 10 years, which includes a graph, according to Heffron.
Every month a nominal amount is invested in the stocks that the women have researched.
"We try to keep our portfolio balanced. We invest in some businesses, banks, automotive, whatever they think may be a good investment," explained Heffron.
They also keep a diverse portfolio, with investments in Harley, Washington Mutual and Expediters International, a Seattle-based container shipper.
At a previous meeting the group discussed its investment in the Cheesecake Factory restaurant chain. They wanted to know why their stock was going down and found out that the company is having problems with stock options for its employees. After a vote, the group decided to sell the stock. "We can always buy back the stocks," said Heffron.
Mostly made of teachers, according to group member Rose Ann Moore, the group had little to no financial background when it started. The group continues to learn about investing, as Barbara Merz said, "Investing is like another form of gambling. There are risks involved with every investment the group makes."
To help prevent poor investment judgment, Moore said that the group has hired someone from the Tri-Cities to help them with making good judgments.
The club is part of a national group called Better Investing. The members attend the national convention for the Pacific region. Once a year they get together in the Sunnyside Hospital board room for dinner and good times. "We're serious, but we don't get carried away," said Merz.
For further information contact Senior Partner Rose Ann Moore at 509-837-3512.