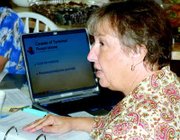 During three days of on-site classes last week, caregivers with Lower Valley Hospice learned how best to serve children who are dying.
Hospice provides comfort and care to terminally ill patients and their families.
To meet its insurer's requirements in caring for children ages 18 and under, the Lower Valley Hospice caregivers received training from Linda Covert, a registered nurse and care coordinator for Children's Hospital in Seattle.
The topics Covert covered included the fact that a child's last breaths are harder to predict than an adults.
"Often parents will say they didn't know their child was that close (to dying)," Covert told those in attendance.
To comfort parents and other family members, Covert encouraged the staff to describe for them the activities a child was able to engage in before they died, such as having a favorite book read to them.
The key she said, is providing hope for the families.
Other training items included how to help terminally ill children with pain management.
Joel Stephens, executive director for Lower Valley Hospice, said the classes are part of a developing relationship with Children's Hospital.
He said in the future Children's will provide Lower Valley staff with workshops and other training opportunities.
But the best outcome from last week's classes will be providing Lower Valley Hospice with the required training in order to be covered for treating terminally ill children.
Stephens said hospice here has in the past worked with children, but its insurer stipulated the training requirement beginning this year.
Stephens said a few children have had to be turned away until staff completes the training. But with that in hand, he said Lower Valley Hospice will again be able to serve children, perhaps as early as next month.
Hospice training and care for terminally ill children received help during the Lower Valley Auction Plus! held earlier this month.
One of the auction items was known as "fund-a-need", and will provide money to purchase items such as thermometers, stethoscopes, blood pressure cuffs, wheelchairs and other items made specifically for children.
"You don't expect children to die," Stephens said. "The natural order of things is that children are supposed to out-live their parents."
As a result, the training received last week will go a long way towards the hospice staff being even better equipped for the physical and emotional issues facing terminally ill children and their families.
"They have very unique end-of-life challenges," Stephens said. "You have to know what you're doing."