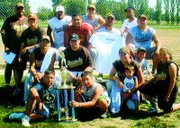 The Chicano/Latino Softball Tournament was held this past weekend at Sunnyview Park with El Valle Restaurant's Brown Sox scoring a perfect 5-0 record over seven other teams, four of which came from out of town to participate in this 32nd annual event.
Chris McCallum of the Brown Sox took home the tournament's Most Valuable Player award. Jesse Arambul of Hideaway Tavern was co-MVP.
All Stars for the Brown Sox were Bob Garza, Nick Lopez, Eric McClure, Andy Carrizales and Dave (Turtle) Torres.
Hideaway Tavern placed second in the tournament. All Stars were Roger Guzman, Freddy Manjarez, Jason Trujillo and Felix Cordova.
Third place was a tie between Team Krush and Fonseca Construction/Professional Painters. All Stars for Fonseca were Chino Esqueda, Tyler Esqueda and Derek Uberuaga. Krush's were Chato Pedroza, Jeff Jensen and Ivan Garza.
Other All Stars were Pat Sevens and Moc Garces from Vargas Trucking; Albert Garza Jr. and Steve Martinez from Angel's Boyz; Jesse Garcia and Mark Echiverra from Shannon Williams Softball Club; and Lupe Macias and Enrique Macias from the Wildboyz.
"In keeping with a tradition started five years ago, Shannon Williams was inducted into the Chicano/Latino Hall of Fame," said Bob Sarmiento Sr., tournament director.
"The El Valle Restaurant/Brown Sox team also won the Lower Valley Men's Slowpitch Association League and placed fourth in Wenatchee at the D State Championships. The team is preparing to represent Sunnyside at the Super World's Championship in Indianapolis, Indiana on Oct. 7, 8 and 9."