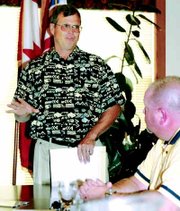 Gary Christensen thought he was going to hunt bears. The Grandview man had always wanted to bag a brown bear and he was finally going to get his chance.
It was April of 2005 and Christensen and two friends traveled to the Kamchatka Peninsula in Russia for the sole purpose of hunting a brown bear.
"The Kamchatka Peninsula has the largest population of brown bears in the world," Christensen told the Sunnyside Noon Rotary Club at its Aug. 28th meeting.
Christensen and his group hunted for three days when they received some disturbing news. Their interpreter told them the Russian government had revoked all hunting privileges for all of Russia. Christensen said they were told to leave the country and go back to the United States.
Not knowing what was going on, the three hunters became even more worried. Each of them had already shot their bears, and Christensen said the trio of hunters weren't sure if that would cause them any trouble.
He said the three hunters made the trip out of the wilderness back to a town named Petropavlovsk. They were hoping to catch a plane to Alaska that afternoon but were told the plane had been canceled. They would have to wait another week for a flight.
Being a member of Rotary, Christensen noticed a Rotary sign at the airport. Faced with a week of waiting for an airplane with nothing to do, Christensen called the Avachinsky Rotary Club.
It took two days to get a response, but on a Sunday night he and his friends received a call from the past president of the club. She told Christensen she was also the president of Open University in Petropavlovsk.
The next day was a holiday but the Avachinsky Rotary Club held a meeting just for the three hunters from the United States.
"They were very interested in learning about America," Christensen said.
So much so, the Rotarians in Russia asked Christensen to put together some seminars during the week he and his friends would be waiting.
"We ended up putting together four or five seminars that were held at the university," Christensen said.
Several people showed up for these seminars, he said, including the mayor of Petropavlovsk and the city's director of tourism. The seminars were mostly about business and tourism with the latter taking up most of the time.
"They wanted to know how to market an area," he said.
The Rotarians Christensen and his friends met made them feel right at home, he said. They were very eager to show them some of the projects the Russian Rotarians had been working on.
"One thing that really got to me was a program they have on working with orphans," Christensen said.
He explained to the Noon Rotary Club how Rotarians in Petropavlovsk raise money and support a summer camp for orphans and needy children.
"It's a fun place for the kids to go during the summer," he explained. "There are 12 cabins and the camp is operated five months out of the year."
Another project Christensen was made aware of was the eradication of Hepatitis B in the area he was in. The Rotary clubs, with the help of Project HOPE, secured 180,000 doses of vaccine and 200,000 syringes. It was a two-year project but 180,000 people were inoculated against Hepatitis B.
Christensen said he was taken to an area where dog-sled teams are trained and even got to drive a sled. On another day they were taken to some hot springs for a warm dip on a cold day.
Christensen said he was also able to meet with a club called Rotaract. This is a Rotary Club for young people in high school and college. He compared Rotaract to Key Club here at American high schools.
"They think they can make a difference in the world and they're trying to do that," Christensen said of the Rotaract Club.
He said some of the programs Rotaract is involved with are gathering clothes for orphans, keeping the city of Petropavlovsk clean and cleaning Avachinsky Bay, which lays off of Petropavlovsk.
For Christensen, his shortened hunting trip turned out OK. He met some new friends and got his bear. The order to halt hunting in all of Russia eventually got straightened out and Christensen and his hunting partners were finally able to send for their bears.
Christensen said he received his about one month ago.