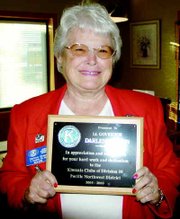 Lt. Gov. Darlene Green was the guest speaker at this morning's Kiwanis meeting. Green, although not a Sunnyside club member, was a delegate representing the Sunnyside Kiwanis Club at the Pacific Northwest District Convention. She gave a report about the convention, which took place Aug. 17-20 in Lincoln City, Ore.
Division 50, represented by Green, covers the area from Roslyn to Prosser and is one of the larger divisions.
The Kiwanis organization is hoping to have one million members by 2015, which means some changes are taking place.
One of the main topics of change Green discussed was the restructuring of Kiwanis International.