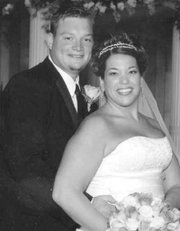 Ryan and Jamie (Gonzalez) Downing are at home in Grandview following their July 8 wedding in Sunnyside and a honeymoon to Orlando, Florida and the Bahamas.
They were married at the Sunnyside Presbyterian Church with Kerri Eucker of Grandview and Bryan McIntire as their attendants.
Others in the bridal party were Jennifer Greene of Vancouver, Brianne Downing of Sunnyside, Tammie Carr of Sunnyside, Scott Downing of Pasco, Michael Clapp of Spokane and Jon Gonzalez of Seattle.
The bride wore a strapless, Victoria gown with crystal embroidery on the bodice and at the hem. She carried ivory and pink roses. The groom's niece, Kaitlyn Downing of Pasco, was flower girl and his nephew, Aidan Martinez of Richland, was ringbearer.
The bride's parents are Eli and Kathy Gonzalez of Grandview. The groom is the son of Dave and Sue Downing of Sunnyside.
The groom, a graduate of Sunnyside High School and a 2002 graduate of Central Washington University, is employed at Yakima Valley Community College and Mabton High School. The bride, a graduate of Grandview High School and Eastern Washington University, is an English teacher at Grandview High School.
More like this story