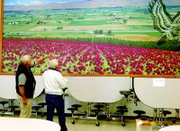 There are still construction workers walking around putting the finishing touches on a few things. The grass is still growing and hasn't filled in yet, but Sierra Vista Middle School will be ready for 671 students on the first day of school next Tuesday.
"There is some roughness around the edges, but honestly we could have class today," Sierra Vista Middle School principal Doug Rogers told the Sunnyside Daybreak Rotary Club this past Wednesday.
Rogers was giving the Rotarians a tour of the new, $13.8 million school.
The school has three wings housing the sixth, seventh and eighth grades. Rogers said there won't be much interaction between the students during school hours because all classes for each grade are in the individual wings.
Each grade will go to lunch at a different time, Rogers told the club. There will be a 20-minute break between each lunch to allow for clean-up.
Rogers also told the Rotarians there won't be too many bells at school. The only bells will be in the morning, during the lunches and at the end of the school day. There won't be any bells to signal the end of individual classes or to let students know they are tardy. Since each student's class will be in the assigned grade wing, the student will just have to walk across or down the hall to get to the next class.
Rogers took pride in showing the Rotarians the two computer labs adjoining the library. Filled with Apple computers, one lab with be a class elective or exploratory class and the other will be for classroom and library support.
Along with the 26 new class rooms and computer labs is a library with 8,200 books.
The science rooms, Rogers said, will have prep rooms serving two classes. These rooms have a opening allowing students to check out equipment and supplies while the teachers can still keep an eye on them.
The windows in the science rooms are higher up, allowing ample light into the rooms, but not allowing distractions for students who want to gaze out the window.
The gym has the smell of a freshly laid floor and will seat 624 spectators.
Rogers also showed the Rotarians resource rooms for the teachers in each wing. A kind of lounge, the rooms have a fridge, microwave, a printer and copier.
Rogers said the school has room to grow. It was built with a student capacity of 930.