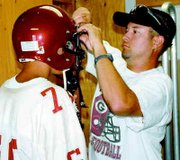 GRANDVIEW - What they lack in experience, they'll make up for in quickness.
That's the approach third-year Grandview football coach Dustin Lamb is taking towards the 2006 season.
Gone is the all-league quarterback/receiver tandem of Brandon Artz and James Vela who helped lead the Greyhounds to their first-ever state football playoff win last season. It was a post-season run that took Grandview to the rare air of the state quarterfinals.
The wide-open spread offense Grandview has employed the last two years under Lamb continues this year, with Matt Concienne taking the quarterback reins.
Concienne, a wide receiver last year, will build on his experience from subbing at quarterback last season. The junior will also play in the Greyhounds' defensive secondary.
Vela may be gone at wide receiver, but Grandview has depth to spare at the position. Marty Guillen, Spencer Lewis and Zach Poteet will all be pass catchers for the 'Hounds in 2006.
A key returner for Grandview is running back Frankie Medina, who sparked the Greyhounds during the first three games of last season before being sidelined by injury. Francisco Valencia will also see time at running back.
Lamb said Grandview's biggest challenge will be replacing several linemen lost to graduation, though Jeremy Stegeman and Freddy Rodgriguez return to help out.
"We'll have to out quick them," Lamb smiled as he noted Grandview's key to holding the line against opponents on offense and defense.
Whether Grandview gets back to the playoffs-particularly in a CWAC which now features the likes of Prosser and Ellensburg-will depend on how quickly the Greyhounds' new starters can adapt.
"We're inexperienced," Lamb said. "The time it takes them to develop will determine our season."
Grandview will get an opportunity for seasoning with a non-league home opener tomorrow, Friday, against rival Sunnyside.
"It's just a great, spirited rivalry. They got us a couple of years ago and we got them last year" Lamb said of the Grizzly/Greyhound tilt. "That's why you get into high school football."