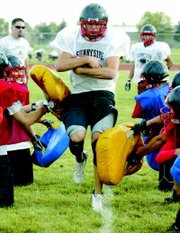 With a young team a little on the small side but very quick, the Sunnyside High School Grizzly football team is ready for the season to begin.
"The whole team is farther along mentally then we've every been before," fifth year Grizzly Coach Mark Marro said. "The kids are picking things up and making their own adjustments."
Marro said at the opening of training practices there wasn't one player who had secured a starting position. Everybody had to win their spots, he said.
To start the first game of the season at quarterback this Friday against Grandview, Marro gave Adrian Cantu the nod.
"He's developed really well over the summer," Marro said. He mentioned that Cantu went to the Matt Hassleback Football Camp and one at Central Washington University. "He's made a lot of progress," he added.
Backing up Cantu will be James Baysinger, one of the three starting wide receivers on the team. Baysinger will rotate receiving duties with Nathan Cornelius and Gibby Briones.
The Grizzly receiving corps took a hit last week when Eric Garza went down with an injury, expected to keep him off the playing field for most of the season.
"It's a tremendous loss," Marro admitted. "Not only did we lose his physical presence on the field, but his leadership qualities he brought as well."
B.J. Miller will be the featured running back in the back field. Marro said he will supplement Miller with four other running backs who will rotate as wing backs.
"This will allow a lot of motion," Marro explained. "Guys will be moving around and getting lots of different looks."
Pounding holes through the opponents defense for Miller and the other backs will be an offensive line that's returning only one starter from last year. Marro said his offensive line isn't as big as past lines but added his current line has lots of speed.
"We don't have the size but we hope to make up for that with our speed," he said.
The Grizzlies will not have a tight end this season, instead opting to use their speedy running backs.
The defense set for Friday's game with Grandview will be a 4-3 defense with a cover four secondary. Marro said he might change it up during the game.
The defensive line is small but quick and the linebackers are the same. Marro said his defense won't overpower anybody but will play assignment defense, getting to where they need to be.
The defensive backfield will consist of two safeties and two corners. The safeties will help with run support, backing up the linebackers.
The Grizzlies will be playing some new teams this year because some schools dropped down from 4A to 3A where Sunnyside is at. The Grizzlies will have a couple of 4A teams on the schedule this year.
"It's an exciting time," Marro said. "There are going to be some tough teams we play this season. Some will be great challenges."
Marro added it doesn't make a difference whether the Grizzlies' opponents are 4A or 3A. He said the other teams only get to put 11 players on the field, the same as the Grizzlies.
"We need to stay healthy," he added. "That will be a big key."