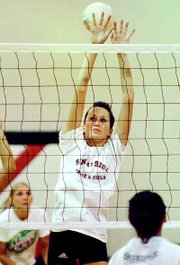 "I put in my resignation for coaching last year, so I could focus on my family. They asked me to come back this year, and I agreed to for the girls," said head coach of the Sunnyside volleyball team Angel Carrizales.
"I always said that as soon as I started having a family I would take some time off from coaching," Carrizales said.
Agreeing to coach for one more year shows her devotion to her players.
In her sixth year as head coach, Carrizales is working hard to ensure her girls are as prepared for the season as possible.
As the new season approaches, Carrizales is excited to see how the girls will do. A fourth team has been added this year, making a true freshman team.
Carrizales said, "I have been petitioning for a new team because we have to cut 8 to 17 girls a season."
"There are now nine to 10 girls per team, which will give the girls lots of playing time," said Carrizales.
The girls spent the summer playing at a Gonzaga volleyball camp, scrimmaging and attending open gym, which went a long way toward developing their skills.
"The freshman class is really strong this year. They have been working a lot together. They have already picked up the systems, which is hard for younger players to learn," said Carrizales.
Carrizales expects all of the teams to do well, since they have worked so hard this past summer.
This year's varsity has younger experience that will add to the team dynamic. Sophomore Molly Dolan is a middle hitter who shows much promise, according to Carrizales. As does senior Kerri Urrutia, a right-side hitter, who shows strong leadership on the court.
Carrizales is hoping that junior Claire Schilperoort, an outside hitter, will help lead the team to a successful season with her ball handling and passing skills
Not only has the team been practicing hard physically, they focus on the mental aspects of the game.
Before practices, the team spends 20 minutes getting mentally prepared with an exercise referred to as Chalk Talk. During that time, the girls focus on team unity. "The chemistry of the girls is wonderful," said Carrizales.
The volleyball team will compete in a new league this year against some new teams. "We're really looking forward to the new league and new opponents," Carrizales said.
A pre-season tournament is scheduled for Sept. 5 at East Valley and the league opener is Sept. 7 at Kamiakin.