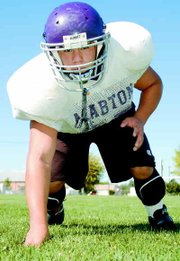 MABTON - A new quarterback, running back, even a new coach are part of the outlook for the Mabton football team's 2006 season.
This may be Coach John Durham's first season at the Viking helm, but he brings loads of experience in 20-plus years of coaching-including the past two as a Mabton assistant coach.
Durham also brings coaching experience in the 1A South Central Athletic Conference (SCAC) ranks as a former head coach at Zillah and Highland.
That's important because Mabton moves from the B classification this year to 1A as a member of the SCAC.
The move may also be familiar to Mabton fans, since the Vikings were in the SCAC just a few years ago.
Now to the new faces.
Sal Lopez, Cody Loomis and Luis Quintero are in the mix to replace all-everything quarterback Alex Zavala.
Loomis may be a particularly new name and face for Viking fans, as he is one of five from Bickleton who will help the Mabton cause on the gridiron.
At running back, Moises Gutierrez and Ramon Castillo will fill the shoes left by speedy Pablo Sanchez.
But there are some familiar faces on this team, as well, particularly on the offensive/defensive lines.
Mabton returns eight letterman, most of them on the line. Durham said he will look to them to anchor the Vikes' hopes for the 2006 campaign.
"That's our starting point," he said.
Gutierrez, who as noted earlier will share running back chores, is one of the players who will get after opposing quarterbacks and hold the line to protect Mabton's signal caller. Durham said Robert Marquez and Adrian Magana are keys to Mabton's success on the line, as well.
The rise to 1A means that Mabton probably won't see another undefeated season like last year, but Durham feels his team will be a strong competitor in the SCAC.
The Vikings' first test will be tomorrow, Friday, when they host the Pasco JV team. It's a non-league contest, but Durham said it will give Mabton an opportunity to assess its new and familiar faces before the league campaign begins.
"It will be a good challenge," he said of Friday's opener. "It will help us see who we really are."