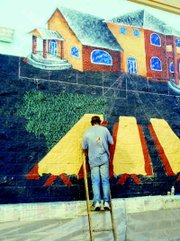 Picture children and adults, playing in a field and gathering for a community picnic. There's even a large barbecue off to the side ready to grill away their appetites.
The people are from different ethnic backgrounds, and they all share a neighborhood of brightly painted homes. They also share a love of community.
Sound like a perfect world?
Pie in the sky?
Not quite.
It is a vision that Yakima mural artist Rick Fuller is bringing to life on a brick wall in Sunnyside.
Fuller is no stranger to murals, having created more than 20 of them over the past four years in and around downtown Yakima.
The mural will cover one exterior brick wall of a First American Title office taking shape in the new storefront of businesses under construction at 2680 Yakima Valley Highway. The wall faces traffic on the highway coming from Lincoln Avenue and the east.
Fuller said the mural, which should be completed by next Monday, will depict a row of bright homes and people gathering near picnic tables for a shared meal.
Calling it an "interracial" or "community" picnic, Fuller gained inspiration for the mural's faces-they should make their appearance on the mural sometime later this week-from real people.
Hanging out at a sub shop in Yakima, Fuller photographed everyone from city officials to a salsa dancer to a librarian to give him faces to work with in creating the 23 people who will populate the mural.
He not only wanted to work from real faces, but faces representing different ethnic backgrounds such as Hispanic and African-American.
Even the homes that dot the brick landscape depict actual houses in the Yakima Valley.
Fuller and an assistant, Michael Crichton, have been working on the mural for a couple of weeks-making the most of shady mornings and evenings and breaking when the hot sun appears overhead.
First American Title, which commissioned the mural, will have its name and logo appear on the side of a truck passing by the picnic scene.
The company contracted with Fuller to create a mural conveying a community gathering of different ethnic groups.
"We wanted something that would embody a sense of community and family, with special focus on the bi-cultural aspects of the Sunnyside area," Brenda Rawlins, Yakima County manager for First American.
She noted the mural's theme is especially appropriate since the Sunnyside office will be bi-cultural, or serve both the Anglo and Hispanic cultures.
"All of the employees will speak both Spanish and English," Rawlins said. "The point is to break down the cultural, language and financial literacy barriers that often arise as part of the home buying process."
All documents the company produces for clients will be in Spanish and English, as well.
The Sunnyside office decor will also have a "latino flavor", she added.
Citing statistics from First American's emerging markets office in Seattle, Rawlins said Sunnyside will be just the second bi-cultural, bi-lingual title company office in the nation. "The first was in Houston, Texas," she said.
"We want to close the existing gap between minority and non-minority homeowners," Rawlins noted.
She said census figures show that 60 percent of Sunnyside's residents are not homeowners. "But they could be," Rawlins added. "We're trying to expand homeownership among Latino and lower income families."
Rawlins said the Sunnyside office will be a branch of the company's Yakima operations. First American Title has 1,700 offices worldwide.
The interior of the First American Title office is still under construction and will open the second week of October.