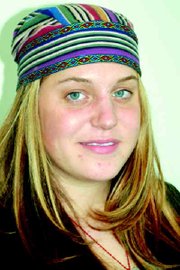 The Great Wall and bustling Beijing are some of the images people often associate with China.
But for 2005 Sunnyside High School graduate Chelsea Durfey, the enduring images of China include hospitality and ongoing environmental struggles.
Durfey, who will be a sophomore at Whitman College this fall, was in China for three months this summer as part of the college's Studies in China program.
In addition to language and culture studies at Yunnan University in Kunming, China, Durfey was able to travel to see other parts of the country.
Later she was able to travel to Malaysia and New Zealand, before returning home on Aug. 23.
An environmental geology major, Durfey said she took special interest in China's environment.
She described how China relies heavily on coal as an energy source. The result is air and water pollution so bad that Durfey said she lost some of her hair-later regained after leaving the country-while she was in China.
"There are areas that do not have clean water," she said.
Further complicating things for the Chinese, is that there is not enough power to provide energy to all the homes.
In one part of the country where Durfey stayed, there was such a shortage that officials had to decide which four percent of the population would not receive electricity.
The area, near China's southern border, was so hot that those without power would move their beds out to the streets because it was cooler outside than in their homes.
Durfey's parents, Ted and Pam, are working to convert canola into a bio-fuel. She said one energy efficient, environmentally-friendly idea she would suggest for China is utilizing solar energy.
"People would have to do it themselves," she said of installing environmentally-friendly devices. "There's no help from the government and they (people) can't afford to do it on their own."
For all of China's environmental struggles, Durfey said the thing she remembers most about the country is the people.
During this, her second visit to the country, Durfey said she experienced friendliness and hospitality with the Chinese offering one celebration after another.
She also learned to appreciate Chinese customs and foods.
"I ate chicken feet while I was there," she smiled. "You wouldn't think they would taste good, but they do."
Now back at Whitman for her second year of college, Durfey said she plans to keep in contact with China and put her Chinese language training to use in the future.
"They are one-fourth of the world's population," she said. "Why wouldn't we want to learn their language?"