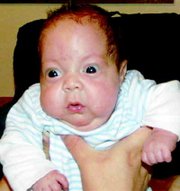 Littlest David Miranda III has made his way from the University of Washington Hospital in Seattle back home to Sunnyside with his parents, Brittney Alvord and David Miranda Jr.
He came into this world more than three months premature, weighing just 1 lb. 11 ozs., and was given a 20 percent chance of living. Surpassing those odds, David now weighs a healthy 6 lbs. 14 ozs.
After recovering from a hernia surgery nearly two weeks ago, a common procedure for premature boys, according to Alvord, Little David was brought home on Aug. 24. "Everything is going well," said Alvord.
David will have continuing doctor's visits as the tiny blood vessels in his eyes are growing quickly. If they grow too rapidly, it can cause the retina to detach, Alvord said.
Alvord and Miranda are extremely grateful to their families and the community for the support they received to benefit their son, David. "It has helped us out a lot.
A car wash fundraiser totaled roughly $1,000, as did a luncheon, bringing the total funds raised to $2,000.
Miranda Jr. and Alvord are looking forward to creating a home for David in Sunnyside.
Although David was born May 18, Alvord said doctors date his birth from his due date of Aug. 30, which made him one day old yesterday.
photo courtesy of the Alvord family
Littlest David Miranda III is not so little anymore. He has gained 5 lbs. since he was delivered in May, more than three months before his due date.