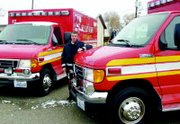 WALLA WALLA - The Bickleton girls basketball team took down Walla Walla last night in their season opener, 38-29.
"We started out the game with some great defense, picking up five steals during the first half," said Coach Tom Whitmore.
In fact, Whitmore said that seven of the nine girls scored in the game. "But I think the key to winning this game was the team effort on defense.
"We struggled with our offense. but I expected that in the first game."
Wa-Hi's 'C' squad made a run at the varsity Lady Pirates early on in the third quarter, tying up the game at 22. After that, the Pirates built up enough of a lead to stave off the opposing team.
"We got our lead back and held it there," said Whitmore.
"Jeanette Jarvis did a great job rebounding for us, as did Katelynn Clinton," Whitmore added.
The Lady Pirates will trek to Arlington for their second game of the season this Saturday.
Bickleton 8 8 14 8 38
Walla Walla 4 8 11 6 29
Bickleton scorers: Chelsey Mercer 12, Phylicia Pearson 9, Katelynn Clinton 6, Jeannette Jarvis 4, Morgan McBride 3, Alejandra Molina 2, Holly Goodnight 2.