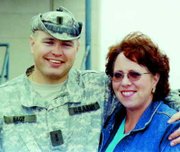 Paula Greene cried when she saw her son shipped off to Iraq.
And she's crying now, 16 months later, as the Army has awarded him the rare honor of the Bronze Star with Valor. Her son, Ben Nagy, grew up in Sunnyside and recently returned to the U.S. and is now stationed in Alaska.
Greene is a special education teacher at Sunnyside High School and keeps a thick folder of clippings and e-mails showing his efforts in Iraq.
Nagy, a captain with the 172nd Stryker Brigade, received his commendation as a result of his action during an intense, six-hour battle with insurgents.
In the face of enemy fire, Nagy retrieved a wounded Iraqi army soldier. The man was one of six Iraqi soldiers who were outnumbered in a gun battle, when Nagy and his colleagues arrived on the scene to help out.
"Ben told me he was standing right next to the guy who was hit," Greene said. "He said there was a 50-50 chance it could have been him."
Greene also noted that, according to Nagy, it was a key moment in that the Iraqi soldiers stayed to fight with the Americans. "Usually they run out of ammunition," she said of the Iraqi forces.
The skirmish was one of several that Nagy survived in Iraq, including 15 hits by explosive devices along the roadway.
"It's been really hard. I'm not the only parent with a child out there (in Iraq). You worry every day," Greene said, wiping away a tear. "It was a relief when he came home."
Greene last saw her son in February 2006, and expects to see him during a visit here in about two weeks.
"It's going to take time to take it all in," she smiled.