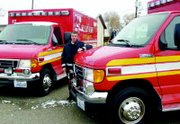 The Sunnyside Fire Department's three brand new and striped ambulances are rolling on the road.
The ambulances that were replaced were all completely different; different in size and where things were stored, according to Fire Chief Aaron Markham.
"That made it more difficult to be consistent on how we train," said Markham.
Two of the older ambulances had more than 100,000 miles on them; the third ambulance would have been 10-years-old next year.
When the fire department initially went out to bid, the request was for two brand new ambulances and for a new chassis to place the third box on. What they found is that there was no real significant savings by getting a new chassis, so the fire department opted to get all brand new ambulances.
Because the boxes have a lifetime warranty, in seven or eight years the fire department can go out for bid for three new chassis.
The fire department uses money received from providing contractual services to Sunnyside Community Hospital to pay for the new ambulances.
Also last month, the fire department upgraded its heart monitors. "They are the most up to date cardiac monitors in the industry, which allows us to provide the best possible cardiac care," Markham said.
The fire department actually traded in its older monitors, which provided for $23,595 in trade-in value.
There are currently seven paramedics in the department. In the ambulances, two people ride together: one EMT and one paramedic.
Currently, there are two shifts when four people are on duty and one shift when there are three on duty.
"The goal is to change that at the first of the year to three shifts with four people on duty," said Markham.
That was the staffing level in the past. But when the Iraq war started, two staff members were active reservists and were called up to serve. During their service, the fire department didn't replace them. Also in this time frame, there were budgetary issues.
The cost to be transported via ambulance varies, Markham said. There are four actual levels of service: Advance Life Support for emergency or non-emergency and Basic Life Support for injury or illness. For ALS patients, the paramedic provides care; for BLS patients, the EMT trained to the IV and airway level can provide care.
Also factored into the cost is zoning--county residents pay more for services than do city residents and businesses, because those within city limits help to pay the utility tax.
Markham said rates can vary from ALS emergency out of zone at $816, plus mileage, to $292 inside the zone for BLS non-emergency care.
At one time, those wishing to pay their bill for ambulance services could do so at the fire department, but that's not the case anymore. Due to a suggestion from the state auditor, bills are paid at city hall.
But, Markham said, the fire department is the place to go to take insurance information if a citizen is provided services.
The calls the ambulance crew receive vary in seriousness and severity. "We run pretty much everything," Markham said.
The most severe situations usually involve car accidents at high rates of speed. "We see some pretty devastating accidents," he said. Other serious situations include shootings or stabbings and cardiac arrest patients.
Less serious situations include shortness of breath, general illness and minor injuries from a fall.