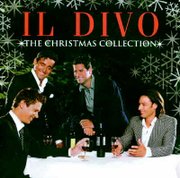 Il Divo, a band I thought was a Devo knock-off, has released its third CD titled, Siempre. I reviewed this CD and their 2005 Christmas CD, Il Divo The Christmas Collection.
First, a little history on Il Divo. They are not a Devo knock-off band but a group of four men who resemble models. This project is the child of Simon Cowell of American Idol fame.
According to Wikipedia, Cowell came up with the idea to form a band after he heard Andrea Bocelli and Sarah Brightman's rendition of Con Te Partiro.
Cowell searched for two years to find just the right people for his band. He wanted to put great voices to classical music.
He settled on Spanish opera and zarzuela baritone, Carlos Marín, two classically trained tenors, Swissman Urs Buhler and American David Miller, and a French pop singer, Sebastien Izambard.
Apparently, Cowell wanted the sound of the Three Tenors who looked like Greek Gods, only better looking.
Since I'm not easily swayed by the looks of beautiful men, I had to rely on the music to make my decision.
Il Divo sings in English, Spanish and Italian on the CD. Siempre starts out with a remake of Knights in White Satin. The song is sung in a mixture of Italian and English. I'm not too hip on the style Il Divo does but this song is hard to mess up and it sounds pretty cool.
These guys definitely have strong voices and talent, it's just the music is a little boring. This is music to listen to on the way to church.
I could probably see myself listening to this music if the wife and I were in Cabo San Lucas getting ready for a night of passion.
If you happen to like a mixture of songs sung in different languages in an opera style, this band is for you.
The other Il Divo CD I listened to was their Christmas one. It's basically the same as Siempre, only with Christmas songs.
Such as O Holy Night, a wonderful song that's hard to mess up. These guys do a good job with the Christmas album. Songs like White Christmas, When a Child is Born, Over the Rainbow and Silent Night are all on the CD and hearing these songs with deep baritone voices is pretty cool to listen to around the Christmas holidays.
Whether or not Il Divo will become a household name is yet to be determined, but I'm sure if Cowell has his way, they will be. Just not in my household.
More like this story