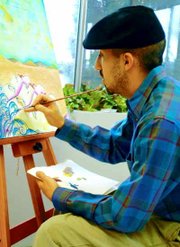 PROSSER - It all started about three years ago with a simple hug from his mom while he was visiting family in Mexico.
"We were talking about my late father," recalled Pedro Valdivia, 20-something artist originally hailing from the Tri-Cities. "She had a cup of wine in her hand when she hugged me and she spilled some on my shirt. I noticed it left a pattern."
Art has imitated life for Valdivia, as that sorrowful hug and the spilled wine has led him to paint a series of portraits using wine as his paint.
Valdivia says he uses bottled wine for his art, creating a paste of sorts by opening the wine and letting it sit for several hours to evaporate fluids and additives.
That reduces his "paint" to about eight ounces of a usable paste.
Now settled in Seattle, Valdivia's wine portraits focus on the famous, ranging from Jim Morrison of the Doors to Elizabeth Taylor.
Valdivia says there's no specific vintage he favors for his wine paint, though most of it comes from Merlot.
Why portraits?
"In a way we're all wines," he said while working on a painting this past Saturday at the Hogue Cellars tasting room in Prosser. "We have different temperaments, different tastes, different characteristics. We are the wine."
So what kind of wine is Valdivia?
With a grin, Valdivia kept his options open, "I'd say I'm a blend."
Through the end of this year, Lower Valley residents can see Valdivia's wine painted works for themselves, as well as his acrylic paintings, at Hogue Cellars, located at 2800 Lee Road in Prosser.
.