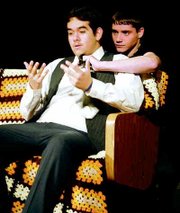 GRANDVIEW - By the time it's all said and done, Grandview High School Drama Club students will have put two months of work into their production of "The Pink Panther Strikes Again".
The play is billed as a physical comedy and to help ready the students for the fancy footwork, advisor Melanie Manship took some of the students to a workshop in Spokane.
This was done to help prepare the kids for stage combat.
"Prior to that, they had no idea how to react to a punch or a kick," she said. "It was something they truly needed to learn and learn well. They brought a lot back with them (from the conference)."
Manship said that now that they've had the training, "I feel a lot more comfortable with this."
The club has done physical comedy before, but not to this degree, she said.
The play centers around clumsy Chief Inspector Jacques Clouseau, and the desire by former Chief Inspector Paul Dreyfus to kill him or have him killed.
Cast members are Brittnee Sanchez as the French Lady, Israel Ruiz as Jacques Clouseau, Tim Taylor as Cato, Dalton Walker as Paul Dreyfus, Tolan Barrett as Dr. Duval, Eric DeLeon as McLaren, Marco Diaz as Dr. Fassbender, Litzuli Campuzano as Margot, Marissa Hererra as Olga, Nate Fleming as Jarvis, Jose Harrington as Mrs. Japonica, Brittnee Sanchez as Mrs. Leverlilly, Michelle Mosley as Mrs. Bullock, Richie Gamino as Mr. Shork, Blanca Policarpo Ehart as Mrs. Stutterstut, Tony Ehart as Tournier, Eric DeLean as Hindu Harry, Hector Guerrero as Cairo Fred, Marvin Stuber as the mafia-type henchman, Jackie Folden as the barmistress/assassin, Dion Hugie as Chuck, Mariah Coronado as the Emcee, Aaron Johnson as the accompany soloist for "I Got You Babe," and Josie Harrington as the German girl.
Assassins in the play include Michelle Mosley, Noah Ziegler, Josie Harrington, Hector Guerrero, Dion Hugie, Aaron Johnson, Richie Gamino and Marvin Stuber.
Crew members include Trina Collins, Anthony Santoyo, Marissa Travino, Haley Lindsley, Ari Rangel, Joseph Taylor, Jordan Iwami, Brittnee Sanchez and Blanca Policarpo Ehart.
Bev Ehart is the assistant director, Angie Johnson is the producer and set director, Travis Ehart is the set chief and Mike Manship is the set crew.
The students will host performances at the Arthur H. Smith School on Dec. 7, 8, and 9, beginning at 7 p.m. each evening Cost for adults is $5; senior citizens and students $3 and children under six are admitted free.